Astros Minors: River Bandits Finish Last in First Half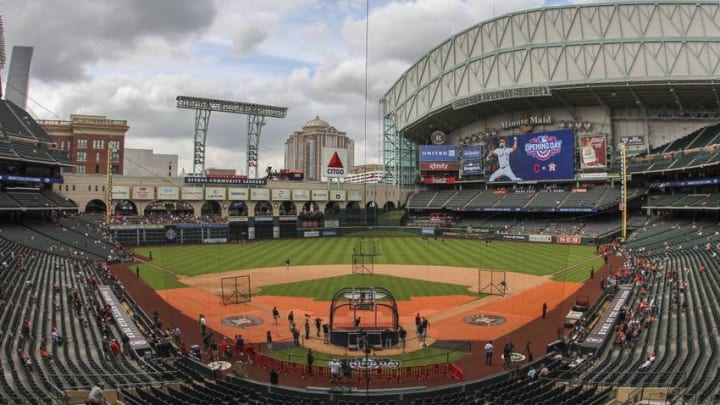 Apr 6, 2015; Houston, TX, USA; General view of Minute Maid Park before a game between the Houston Astros and the Cleveland Indians. Mandatory Credit: Troy Taormina-USA TODAY Sports /
Astros Class-A Report: Quad Cities River Bandits (June 19-25)
The Astros Class-A Quad Cities River Bandits did not have a good first half of the 2016 season. The Midwest League team led by Manager Omar Lopez finished last, 8.5 games behind Western Division leading Peoria, and a half-game behind seventh place Burlington.
The team lost the first five games of the season, and 12 of their first 14, en route to a 31-38 record. They were consistent at home and on the road, with a 15-19 record at Modern Woodmen Park, and 16-19 in away games. River Bandits batters got off to a slow start, not hitting well with runners in scoring position, and striking out far too often, although they did improve steadily in team batting average.
Offensively, the team is around mid-pack in most hitting categories, but they stand 5th in the league in strikeouts and near the bottom in RBI. The good news is the team batting average climbed to .241 at the break, 27 points behind the league-leading South Bend Cubs.
Outfielder Myles Straw leads the team in batting average (.313), followed by infielder Arturo Michelena (.310), and Astros #4 prospect, outfielder Kyle Tucker (.306). Straw and Tucker lead the team in OBP (.393, .374), with Straw and 1B Dexture McCall leading in slugging (.536, .427). Tucker leads in hits (63), doubles (12), RBI (32), and total bases (86), despite spending a week on the Disabled List. Osvaldo Duarte leads in triples (6), with McCall and Connor Goedert in home runs (4 each). Tucker is the lone River Bandit position player named to the All-Star team, but he did not play due to injury.
While the Bandits have enjoyed some great individual pitching performances, the team ERA is a disappointing 3.72, 13th in a 16-team league. Quad Cities pitchers have given up 572 hits, 6th most in the league. They are 4th worst in earned runs allowed, 3rd worst in walks, and 14th in WHIP (1.35). Alex Winkelman, who was promoted to Advanced-A Lancaster in May, is still the team leader in wins with five, while Ryan Deemes, also now with the Jet Hawks, holds the team ERA lead at 0.87. Astros #10 Prospect Albert Abreu leads the team in strikeouts with 71, and he has also allowed the most walks (34). LHP Kevin McCanna also represented Quad Cities in the All-Star game, and he did play. He threw 2/3 of an inning, struck out one and allowed one hit.
Quad Cities gets a new chance after the Midwest League All-Star Break when every team starts at 0-0 for the second half.
Other notes:
According to Steve Batterson and the Quad City Times, River Bandits owner Dave Heller awarded full tuition, one-year college scholarships to three local students. Batterson noted in the story: "The Bandit Scholars program is funded by fan donations and River Bandits' fundraising efforts including the Bandits Race to Home 5K and an annual golf outing."
The annual Midwest League All-Star game was played on June 21 in Cedar Rapids. The Eastern Division won 11-10, in a game that saw 20 different players from both sides get hits. The Western Division had 13 hits, while the winning East knocked out 11. McCanna was the only River Bandit to appear.
Two days after McCanna pitched in the All-Star game, he was promoted to Advanced-A Lancaster. The 22-year-old left-hander was 2-3, 2.91 ERA in 55.2 innings for Quad Cities.
Jose Hernandez pitched five innings on June 23 against Wisconsin, giving up only three hits, no walks and striking out five. His opponent, Conor Harber threw five hitless, scoreless innings before giving way to a reliever. Myles Straw broke up the no-hitter in the sixth, and it proved to be the only hit for Quad Cities in the loss.
Astros #4 prospect Daz Cameron, who was sent on May 4 to Extended Spring Training, has played eight games for the Class-A Short Season Tri-City Valley Cats of the New York/Penn League as they began their season on June 17. For the River Bandits, Cameron had struck out 33 times in 77 at-bats, and he isn't faring much better with the Valley Cats. After the game on June 25, Cameron has struck out 16 times in 36 at-bats and is hitting .194.
Jonathan Arauz, the Astros #13 prospect is on the Appalachian League's Greeneville Astros (Rookie) roster. On June 25, he played his first game for the team and went 1 for 3 with a solo home run.
More from Prospects
Gilberto Celestino, Astros #14 prospect is hitting .273 in 19 games for the Dominican Summer League Astros Orange (Rookie). The 17-year-old from Santo Domingo, DR has an OBP of .430.
Astros #15 prospect Miguelangel Sierra (SS), played his first game of 2016 on June 23, for Greeneville. The 18-year-old signed in 2014 for $1 million as an International Free Agent out of Venezuela. In his first game for Greeneville, he got one hit, a triple, and struck out twice. The next night, he hit a three-run home run, which proved to be the winning runs.
INF Keach Ballard was promoted on June 25 to Advanced-A Lancaster. He was hitting .229 with one home run and eight RBI in 26 games for Quad Cities.
On the same day, pitcher Matt Bower was sent from Lancaster back to Quad Cities. In seven games, five starts with the Jet Hawks, Bower was 2-3 with a 9.32 ERA. In 28 innings, he gave up 46 hits, 29 earned runs, and seven home runs. In his first game back, on June 25, he was the winning pitcher.
As mentioned a few weeks ago, Myles Straw is hitting and playing great defense. In the June 25 win over Wisconsin, Straw crashed into the wall making a catch in left field, recovered and doubled a base runner off of first base.
Next: Astros: A.J. Reed Called Up to Majors, Tony Kemp Optioned to AAA
Quad Cities went 2-2 this week. Next week, (June 26-July 2), the River Bandits play one at Wisconsin, four home games against Cedar Rapids, and then a road trip to Kane County (Diamondbacks.)
**Statistics provided by MiLB.com**