Houston Astros Twitter Madness is Here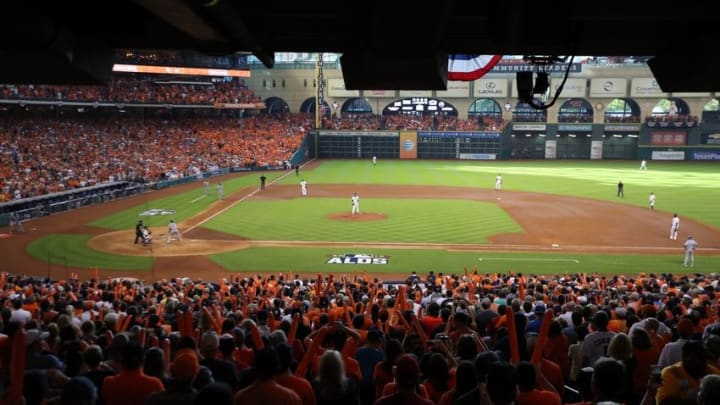 Oct 11, 2015; Houston, TX, USA; General view during the fifth inning as the Houston Astros take on the Kansas City Royals in game three of the ALDS at Minute Maid Park. Mandatory Credit: Thomas B. Shea-USA TODAY Sports /
With Opening Day Upon Us and March Madness in Full Swing, Climbing Tal's Hill Wants to Discover The Champion of #AstrosTwitter
Inspired by the thought of Blake Permenter, the Climbing Tal's Hill writing staff decided to create an Astros Twitter bracket to see who is on top in the Astros digital world. March Madness has got the whole country making brackets now, and we believe that Astros Twitter needs to crown a true champion before Opening Day in a little over a week.
When creating the field, there were many decisions to make. Which fans are the biggest Astros fans out there, who are the writers to include, and how to seed the bracket. In the end, we decided to randomly seed the bracket, and make it a large field of 64 people/websites. When we presented the idea to Twitter, the response was overwhelmingly in favor of presenting the bracket:
Here's the field (IN RANDOM ORDER):
Brian McTaggart
Robert Ford
Morgan Ensberg
Eric Huysman
Lance Zierlein
Climbing Tal's Hill
The Crawfish Boxes
Angel Verdejo Jr.
Astros Talk
Issa Cook
Colin Gay
Elliott Jenkins
Alexa Elliff
Baseball Lawyer
Houston Astros Orbit
Sac Town Browns Fan
Ed Astro
Go Stros!!
Drew Shirley Sports
Tyler Stafford
Thickie Don
Keuchel's Beard
Julia Morales
Alan Ashby
Steve Sparks
Bobby Dynamite
AndyYSR
Michael Knight
Dustin DeBerry
Archbishop Deshaies
Jake Kaplan
Brian T. Smith
Larry Manch,
(Not) Mr. Crane
Stros and Son's
Astros Daily
Mike Hackemack
Astros AtoZ
Jexas Michalak
Mark Berman
Alex  Sandoval
Jayne Hansen
Beat the Shift
Chalupa Batguy
STROSfaniknow
Ryan Dunsmore
GhostJudgeHofheinz
Chris Gordy
Greis
Astros Future
Jason Burke
Astros in Orbit
House of Houston
Matt Thomas
Bill Brown
Austin Swafford
Geoff Blum
Aric Cisneros
Cody Poage
TalkingStros
Greg Thurston
Negro Bane/Tha Shark
'Stros of Crush City
AstrosNation
Next: Astros Spring-Based Bold Predictions
Now, there is only one question left: Who Will Be the Champion of Astros Twitter Madness?