Checking in on the Astros' centerfield platoon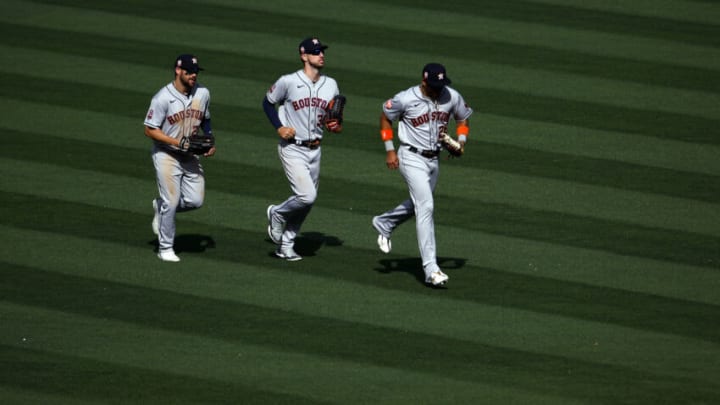 (Photo by Ronald Martinez/Getty Images) /
While Pedro Leon excels and Jake Meyers nears a rehab assignment, where does the current Astros' centerfield platoon stand?
Three weeks or so ago I gave an initial review of the Houston Astros centerfield platoon of Chas McCormick and Jose Siri.
The caveat then was that the sample size was small — 12 games — and that has proved to be true at this point, 34 games into the season. At the time of the first review, between the two of them they were batting .300, playing well defensively and while the defensive part is still true, both have struggled offensively since that post back on April 21.
McCormick is down to .226 overall with two homers, eight RBI and an 88 OPS+. Surprisingly, he's struggled against right-handers with a .212 batting average and has done better against southpaws with a .259 average, but there are two things that stand out to me and not in a good way.
First, he's only hitting fastballs, while struggling against breaking balls (.103) and offspeed pitches (.182). McCormick is striking out less, but his launch angle and exit velocity are also down.
Secondly, his xBA for his 377 Major League at-bats over a season plus 34 games is .226, a full 20 points below the league average. This could be who he is: a serviceable utility outfielder who is good in short stretches and as a late inning defensive replacement.
After a big Saturday, Siri is up to .238, but has been horrible against left handers, batting .105 in 19 at-bats with 10 strikeouts. Siri also has struck out almost 32% of the time, neutralizing any speed he could provide offensively as his .294 OPB indicates.
Enter the Astros latest acquisition, utility man Mauricio Dubon, who can play center field and has hit left handers well in 2022, albeit over a small sample size. Dubon joined the active roster Sunday with the optioning of Niko Goodrum.
As president of the Chas McCormick fan club the easy thing to do would be to overlook his flaws, but I'm currently headed the other way.  He's a valuable utility outfielder that can play all three positions, but I don't think he's the long term answer, even if that long-term is only until Jake Meyers is healthy.
Siri has had less opportunity than McCormick, but to me he's not the long term answer either, which could be why the acquisition of Dubon occurred. Given the Astros pitching, any combination of the three could hold the position down until Meyers returns, but I would expect little over replacement level if that ends up the case.
Meanwhile, in Sugar Land, Pedro Leon is doing his thing, hitting .270 with 7 home runs and 26 RBI in 115 at bats and it's tempting to think he could get the next shot, at least before the acquisition of Dubon.
The truth is Leon just recently passed 100 minor league games played and has only 370 professional at bats and a career .235 average. Some combination of Siri, McCormick and Dubon will hold it down until Jake Meyers returns, hopefully fully healthy, but when that is no one seems to know for sure.