Astros Adding Los Angeles Hands to their Front Office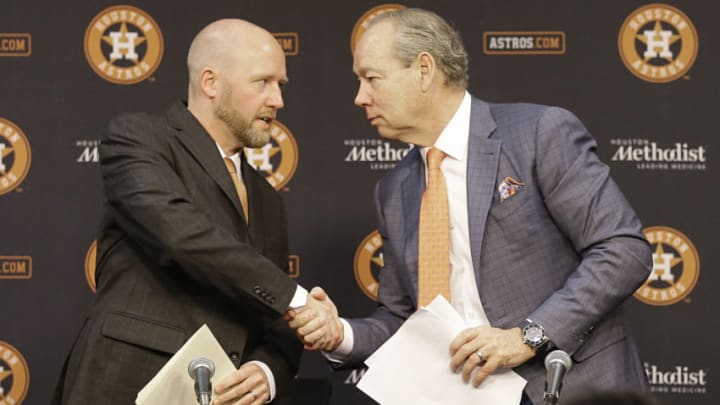 (Photo by Bob Levey/Getty Images) /
The Houston Astros add two assistant general manager from Los Angeles' ball clubs in Scott Powers and Andrew Ball.
Last month, the Houston Astros lost former baseball operations hand, Brendan Fournie, to the Baltimore Orioles. Fournie joins a list of former Astros' front office members that have taken control of the American League East club in Baltimore.
In lieu of Fournie, the Astros have reportedly targeted new members to fill their holes in the front office. Jeremy Booth of KHOU 11 in Houston reported that the Astros have hired Scott Powers from the Los Angeles Dodgers.
Powers was recently the Director of Quantitative Analysis for the Dodgers, while with the ball club for close to five years. Booth also reported that his sources indicate a second signing within the front office.
That being Andrew Ball, who was the Los Angeles Angels' Director of Baseball Operations. While the signing has yet to become official, Booth reports that Ball "may not be far behind in joining James Click's front office."
Ball worked for the Tamp Bay Rays, the organization that the Astros hired Click away from, while both were in the Florida organization at the same time. Current assistant general manager, Pete Putila, could be on the move or promoted to a different position, while he has been with organization for over 11 years.
Both Powers and Ball are expected to be assistant general managers to Click. These two signings are of the three that have been reported this offseason, while Houston inked Sarah Goodrum from the Milwaukee Brewers to lead their player development.
The organization has also shuffled their minor-league staff with departures affecting higher levels of affiliation, since the postseason concluded. In terms of future contributors, Houston will be home to Jeremy Frank of Baseball-Reference this summer, as he joins the team's Research and Development department.
On Jan. 5, the Astros announced the promotions of Jacob Buffa, Charles Cook, Matt Hogan and Will Sharp within the organization.
"The additions of Andrew, Scott, Sara and others, combined with the expanded roles and responsibilities of many of our current staff are exciting changes for the Astros that will enable us to continue to be at the forefront of all areas of Baseball Operations," general manager James Click said. "We're excited to add their fresh perspectives and to see our staff continue to evolve as we strive for long-term, sustained success at all levels of the Astros organization."