Altuve, Astros come out swinging and reap the rewards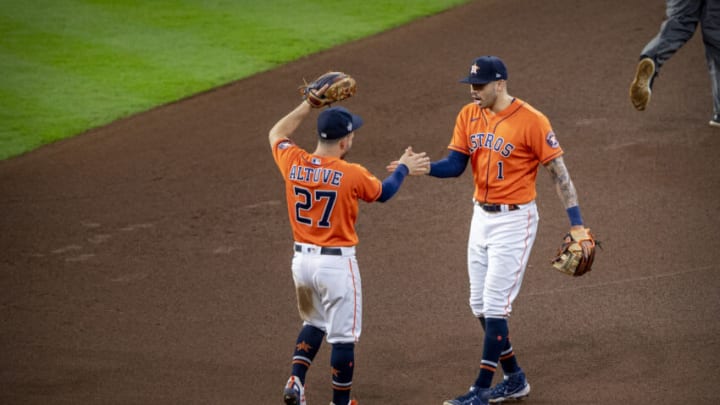 Mandatory Credit: Jerome Miron-USA TODAY Sports /
Jose Altuve made history with his late-game slam in Game 2 of the World Series.
It flashed on the screen right after Jose Altuve hammered the first pitch of the bottom of the seventh inning, a 92 MPH, four-seam fastball from Drew Smyly, 374 feet into the Crawford Boxes.
The heart and soul of the Houston Astros had not only just extended the Houston lead to a grand slam proof five runs, he reignited the crowd and crushed whatever hopes of a rally that remained in the visiting dugout.
In the process, Altuve, all 5-foot-6 of him, had tied Bernie Williams for the second most postseason home runs at 22,  behind Manny Ramirez's 29. Second most ever. In the history of baseball.
With all the required caveats of number of rounds and games in the modern playoff structure these days acknowledged, something else struck me about the graphic.
It took Williams 46 more games and 203 more plate appearances to hit 22, and while doing quick math in my head, it showed that Altuve's numbers are even better than Ramirez's on home run per game and per plate appearance ratio.
Manny Ramirez – 111 games, 29 HR, 493 PA, HR per game .26, PA per HR 17
Bernie Williams – 121 games, 22 HR, 545 PA, HR per game .18, PA per HR 24.8
Jose Altuve – 75 games, 22 HR, 342 PA, HR per game .29, PA per HR 15.5
It's always fun to poke fun at the Captain Obvious like narratives driven by the national media, and the World Series provides many fantastic opportunities to do so.
But there was one Astros narrative driven home repeatedly by the media this year that is spot on: the Astros go as Jose Altuve goes.
After taking a 0-for-5, three-strikeout, collar in the Astros mostly listless offensive showing in Game 1, Altuve came out swinging, both literally and figuratively in Game 2 on Wednesday, a 7-2 win that tied the series at one a piece heading to Atlanta.
The Astros were aggressive at the plate from the outset, ignited by Altuve's leadoff double on a 95 MPH, four-seam fastball from Max Fried.
The double was important, but so was the attitude – attack from pitch one.  This Astros offense looked different from the Game 1 Astros offense from the first pitch. Before you knew it, it was 5-1 Astros and the story was all but written.
The Astros can win without the kind of night Altuve had, but the odds are much smaller, the chances of something going awry much higher.
That didn't happen Wednesday night, though. Altuve started it off with a ringing double down the left field line and capped it off with a blast into the Crawford Boxes.
From beginning to end, this was Jose Altuve's night.