Astros Have 5 Silver Slugger Award Finalists for 2021 Season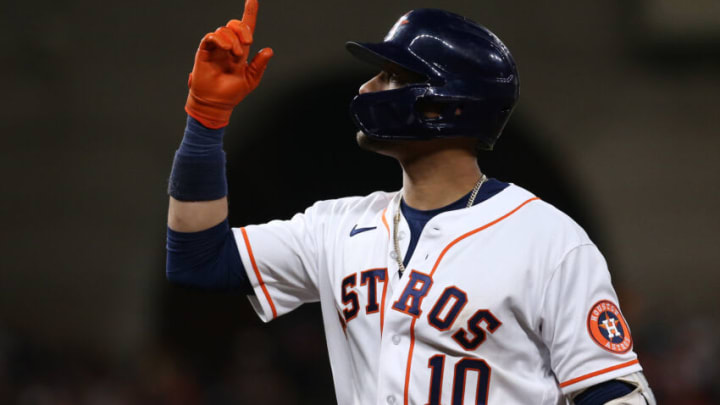 Mandatory Credit: Troy Taormina-USA TODAY Sports /
The Houston Astros' offense ranked among the best in Major League Baseball for 2021, while missing Alex Bregman for an extended period of the season and also Michael Brantley to a few injured list stints.
Those two didn't end their seasons as finalists for the Silver Slugger Award for their respective positions, but five other Astros made the list. Bregman's .270/.355/.422 line over 91 games was the lowest of his career and wasn't better than Rafael Devers, Jose Ramirez and Kyle Seager.
For Brantley, it was a head scratcher that he was left off, while the left-hander had the second highest batting average in the American League behind Yuli Gurriel. While a dying a statistic, batting average can still be a factor for voters but wasn't enough to be a finalist.
Five Astros are finalists for Silver Sluggers, but how do they fare?
Yuli Gurriel
While the AL batting champion, Gurriel slashed .319/.383/.462 with 31 doubles and 15 home runs. The right-hander was snubbed from the 2021 All-Star Game, while his two Silver Slugger competitors, Vlad Guerrero Jr. and Matt Olson, played in the Midsummer Classic.
It will be a tough case for Gurriel to outdo Guerrero in voting, while the right-hander would likely finish second in AL MVP voting.
Jose Altuve
Jose Altuve was back to his All-Star ways in 2021, but his competition is tough with the newly assigned second baseman Marcus Semien being a finalist. Semien slashed .265/.334/.538 in 162 games this season with 45 homers and 102 RBI.
Altuve hit .278/.350/.489 with less slug than Semien and 31 home runs to his name. Semien will likely receive MVP votes as well, but Altuve, DJ LeMahieu nor Jorge Polanco stand much of a chance passing the natural slugging shortstop in Semien.
Carlos Correa
Of shortstops, Carlos Correa might have the best case to reel in the Silver Slugger. The right-hander slashed .279/.366/.485, which is better than Tim Anderson and Bo Bichette, who lead the AL in hits.
Xander Bogaerts has a slightly higher OPS than Correa. But by bWAR, Correa sits at 7.2 and Bogaerts at only 4.9, which does factor in all around play. Correa had more value and home runs than Bogaerts, while also having one less hit. It will be a close finish, but Correa's 131 OPS+ shows more value than Bogaerts' 127 OPS+.
Kyle Tucker
From the outfield, three players will be selected, as Kyle Tucker is the only Astro in contention. The left-hander was the best hitter in baseball since early May, while also being the AL Player of the Month for the months of September and October.
Cedric Mullins, Teoscar Hernández, Aaron Judge, Mitch Haniger, Lourdes Gurriel Jr., Hunter Renfroe and Randy Arozarena stand among Tucker, while the Astros' right fielder has a good chance of being in the top three.
Yordan Alvarez
Although having an All-Star caliber season paused by short injured list stints, Yordan Alvarez will most likely not win the Silver Slugger for designated hitters. However, the left-hander slashed .277/.346/.531 with 33 home runs in 2021.
The issue is that the suspected MVP, Shohei Ohtani, is a designated hitter. The left-hander had a career-year posting a .257/.372/.592 line with 46 long balls. The other players in contention are Giancarlo Stanton, Joey Gallo (who played eight games at DH) and Nelson Cruz.