Astros World Series Roster Finalized – adding a familiar face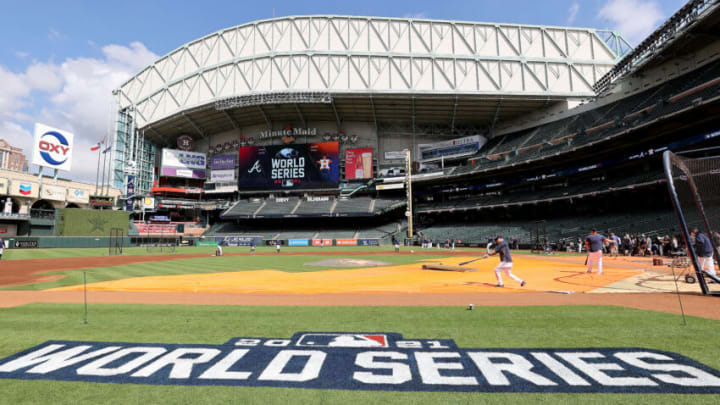 (Photo by Elsa/Getty Images) /
The Houston Astros final roster of the season for the World Series has been submitted. The notable change has come at the outfield spot as Jake Meyers' shoulder injury has left him off the World Series roster.
What was once deemed a day to day injury has sadly ended Meyers' rookie campaign after being called up in August. Filling in is an all too familiar Astro from the last world championship team, Marwin Gonzalez.
Marwin Gonzalez makes Astros' World Series roster in response to Jake Meyers' injury.
Gonzalez's addition adds flexibility as a switch-hitter that loves hitting against finesse pitchers. All of his five home runs have come against them and 20 of his RBI, as compared to only two against power pitchers.
Both Max Fried and Charlie Morton heavily use the curveball, while Ian Anderson relies on his offspeed pitches for strikeouts. Gonzalez is also hitting .250 this season against lefties with two home runs and nine RBI in 84 at-bats.
Gonzalez could be used in key situations to pinch-hit versus tough lefties, as the Atlanta Braves pitching staff has two lefty starters and four lefties in the bullpen including closer Will Smith.
Gonzalez also has some clutch stats, and of course moments in Astros' World Series history. The utility man could be a key player off the bench for manager Dusty Baker in the late innings and close games.
Finally, once again Garrett Stubbs was left off the roster adding an additional arm to the thin bullpen. With as much as Baker has used the bullpen this postseason, it comes as no surprise Stubbs is left off.
Once again Blake Taylor is on the roster which boosts the lefties out of the 'pen and is highly needed versus the big lefty bats on the Braves' roster.
Taylor could be brought in to face Eddie Rosario, Joc Pederson or Freddie Freeman. Either way, Stubbs is out as Jason Castro has hardly been used all postseason, and so, there is no need for a third catcher, while Castro has been clutch in pitch-hitting appearances.