Projecting the Astros ALCS Roster with McCullers Likely Out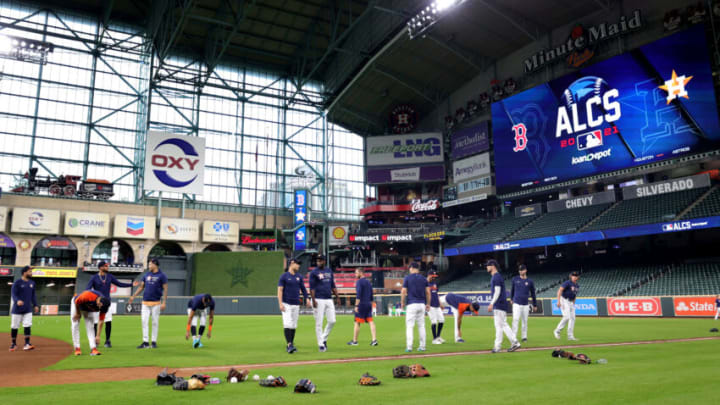 (Photo by Carmen Mandato/Getty Images) /
The 2021 ALCS begins on Friday at 7:07 p.m. at Minute Maid Park, as the Wild Card Champion Boston Red Sox take on the Houston Astros. Lance McCullers Jr.'s status likely has him out for the series, and with the Astros already thin in their rotation, the ball club will probably not lean on Zack Greinke, who isn't stretched out to be a starter.
Framber Valdez has been granted the ball in Game 1 with Luis Garcia the probable starter for Game 2 on Saturday at 3:20 p.m. Jose Urquidy has still not been slated for a postseason start, after being swapped for McCullers in Game 4 with the game being postponed a day.
With the ALCS being a best-of-seven series, most teams would likely pick up a 13th pitcher like they are constructed during the regular season. Especially with McCullers likely out with a forearm injury, the Astros could use some help in the long-relief game.
The ALCS starts on Friday, but who will the Astros carry on their 26-man roster?
Starting Pitchers (4): Framber Valdez, Luis Garcia, Jose Urquidy and Jake Odorizzi
With the off days for travel, most teams will only go with four starters through the ALCS. Valdez and Garcia will man Games 1 and 2, while Jose Urquidy would most likely pick up a road start.
Urquidy hasn't been used once yet this postseason, and without a start slated, it looks like the Astros are relying on his maturity in the road environment of Fenway Park in either Game 3 or Game 4. The right-hander faced the Red Sox once this season striking out nine over six innings, while only allowing one run on a walk and three hits.
With McCullers likely out, the Astros could either fully rely on a bullpen game or hand off a start to Jake Odorizzi, who was left off the ALDS roster. The right-hander faced the Red Sox twice in 2021, posting a 6.75 ERA over eight innings of work and eight strikeouts to four walks.
The Red Sox have a mainly right-handed dominant lineup, and Odorizzi has been more efficient against righties than lefties this year, while giving into a .238/.282/.417 clip. The questions remain if Odorizzi's September resurgence was enough for a postseason seat and if he is stretched out to be a starter and eat innings?
Relief Pitchers (9): Yimi Garcia, Kendall Graveman, Zack Greinke, Cristian Javier, Phil Maton, Ryan Pressly, Brooks Raley, Ryne Stanek and Peter Solomon
Yimi Garcia and Phil Maton saw bounce back outings in Game 4 of the ALDS, as manager Dusty Baker utilized the two relievers based on their righty/lefty splits.
Cristian Javier had one appearance in the ALDS, where he worked 2.2-scoreless innings. The right-hander punched out six batters with two walks under his belt. Javier might not be starting again, but he could eat some innings in a bullpen game or in long relief.
With the Red Sox lineup being mainly right-handers, a left-handed reliever might not be as valuable just like in the ALDS against Chicago. But with the option possibly up for grabs, Brooks Raley should make it over Blake Taylor.
Taylor faced the Red Sox in 2.2 innings this season, as Boston slashed .273/.308/.455 against the left-hander. Raley faced them in 2.1 innings, as Boston hit .222/.222/.333.
These are both small sample sizes, but Raley has also been better against right-handed hitters this season (.259/.333/.463 vs .306/.391/.490), and their left-handed splits have been interchangeable. Both lefties have a disadvantage against right-handed hitters, but with the possibility of facing lefties at the top of the order, Raley could be the better option.
Peter Solomon and Brandon Bielak didn't make the ALDS roster, but with a long-reliever probably needed, Solomon should be taken over Bielak. Solomon only pitched through 14 major-league innings this season with a 1.29 ERA.
Right-handed hitters hit .167/.286/.167 against him this season in a small sample size of 18 at-bats, but Bielak struggled against righties all season (.252/.347/.447). Only Bielak faced the Red Sox in 2021, where he surrendered three runs over two innings.
Catchers: (2): Martin Maldonado and Jason Castro
The Astros could likely carry three catchers this series, depending if there are any lingering effects from Martin Maldonado's shoulder injury near the end of the season.
Garrett Stubbs, who can also play second base and left field, allows the Astros the possibility to pinch-run and/or pinch-hit for Maldonado or Jason Castro late as well. If he does make the roster, then leaving off a pitcher or outfielder would be a possible move.
Infielders (5): Yuli Gurriel, Jose Altuve, Alex Bregman, Carlos Correa and Aledmys Diaz
While the Astros didn't use Aledmys Diaz in the ALDS, adding either Marwin Gonzalez or Taylor Jones would probably not happen. Although the two can both play left field, Houston carried six outfielders and Diaz, who can play left as well for the ALDS.
Outfielders (6): Michael Brantley, Chas McCormick, Kyle Tucker, Yordan Alvarez, Jake Meyers and Jose Siri
Jake Meyers told reporters he will be available to play in the ALCS, if the Astros agree. And while Jose Siri was in the same boat before the ALDS, I am expecting Meyers to make the roster but anticipating Chas McCormick to receive more starts.
ALCS rosters are supposed to finalized by 10 a.m. on Friday. The Astros haven't announced a Game 3 starter just yet, but it will be played at Fenway Park on Monday, Oct. 18 at 7:07 p.m.
If the Astros were likely to add a pitcher that wasn't a member of the ALDS roster or taxi squad, I would put money on Rafael Montero, who rehabbed his shoulder injury recently.
Update: Blake Taylor made the ALCS roster over my projected long-reliever Peter Solomon.