Astros: Carlos and Co. Show Off Powerhouse Offense Against Oakland A's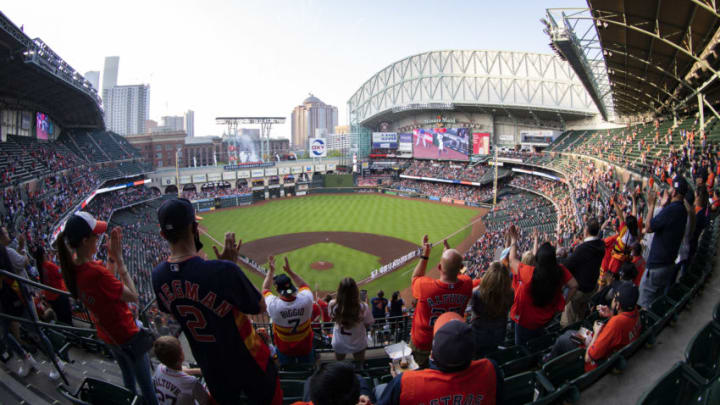 HOUSTON, TEXAS - APRIL 08: Fans stand as players take the field prior to the game between the Houston Astros and the Oakland Athletics at Minute Maid Park on April 08, 2021 in Houston, Texas. (Photo by Carmen Mandato/Getty Images) /
For the first time in over 526 days, the Houston Astros finally got to play a game in front of their home fans at Minute Maid Park at 50% capacity. For many fans, it was one of the most emotional home openers in team history, after what most of them have gone through in the past year from the pandemic to the freeze.
The Astros did a fantastic job of paying tribute to those who were lost during the past year around the organization and honored long time fans who are no longer with us. All you can do is tip your cap to the team, as they continue you to be a first class organization when it comes to helping and paying their respect to others
The Houston Astros beat Oakland 6-2 in their home opener behind their powerhouse offense.
While this Houston team now leads MLB in home runs, the offense did not disappoint in this first home game of the season, as they mashed several home runs in route to a 6-2 victory. The first one came one from Carlos Correa in the second inning.
If Correa keeps crushing the ball like this, GM James Click and the front office would be behooved to get an extension done, but with that door closed in Correa's mind, the shortstop is boosting his stock. Myles Straw even got in the action in the 6th inning as well, slashing a two run single to give the Astros a 5-0 lead.
The Astros were not letting their foot off the gas pedal just yet, as Yordan Alvarez announced his return to Houston by absolutely crushing one to the upper deck in the 6th inning. We all know Alvarez's talent; let's just hope it lasts all season with no injuries. As the big left-hander rounded the bases and has also been running out doubles, he looks to be picking up where he left off.
Jose Altuve also got in the action; launching a solo shot in the seventh to make it 6-0 in favor of the Astros.  You can't be happier than you are watching Altuve have a great start to his season. While one of the most consistent players in baseball, he's proving that last year was a fluke, and for someone who battled injuries and personal loss, Altuve deserves this the most. The Astros have now homered at least once in all seven games this season.
As Michael Brantley made his return to the lineup for the first time since April 3, this core of power hitters continued their dominance over the AL West. If this Astros' offense continues to rake at this pace, baseball better watch out, as MLB may have a new edition of the Bash Brothers.
The Astros have not lost to the A's this season and will continue their hot streak on Friday with Lance McCuller Jr. facing off against Sean Manaea at 7:10 p.m. This will be an eventful game for McCullers, as it's his first appearance in Minute Maid Park since his extension.