Astros: Minute Maid Park will look a little different this season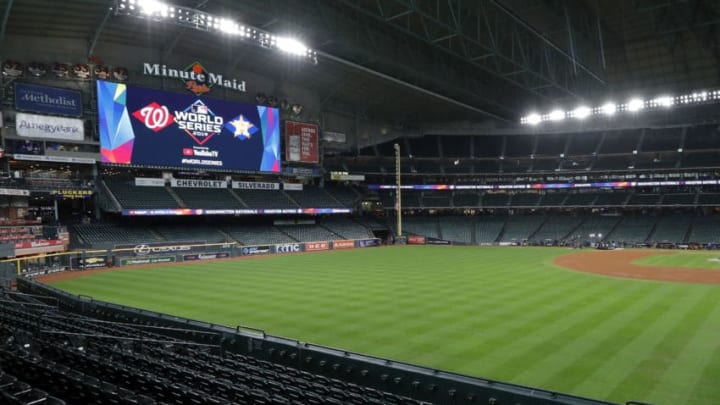 (Photo by Tim Warner/Getty Images) /
The Houston Astros have seen a great deal of change from their roster to their front office to the way opposing fans see them, but with every new year, something may need to be remodeled. While Minute Maid Park wasn't home to fans in 2020, the ballpark is expecting 50% capacity on Opening Day. This number could fluctuate over the season, but it is the best start as fans start to see their team play again.
From the right field concourse to the destruction of Tal's Hill, Minute Maid Park has seen itself change since its construction in 2000. Astros fans haven't seen their team play at home since 2019, and with a different atmosphere and a changing world, baseball might feel different, but it is one step closer to normalcy.
Here the changes within Minute Maid Park:
These images and videos presented are from Brian McTaggart of MLB.com, who reported the remodeling on Twitter. Starting in right field, the orange seat that was commemorated to Yordan Alvarez's longest home run at Minute Maid Park has now been moved with the remodeling of the second deck concourse. The Astros are still working for another way to commemorate the home run.
These upgrades started in 2019 and have caused a $25 million dent to the team's check book. As it looks to open for more standing room only, the Astros are improving the stadium for the overall all betterment and enjoyment of fans. VP of Marketing and Communication Anita Sehgal praised the changes that are bringing safety and enjoyment to the stands this year.
The Astros' Hall of Alley in center field also has a new mural, as it seems like it changes every year. With Orbit gracing the wall, the painted green alien is sliding home, but no sign of players will be on the walls for the home opener. Across the street, the bars and restaurants that used to stand on Texas Ave. are all gone, while the Astros intend to use the land.
As all Astros' fans missed out on a year at Minute Maid Park, the 2020 Hall of Fame class didn't receive their true remembrance. Lance Berkman, Roy Hofheinz, Billy Wagner, Roy Oswalt, Cesar Cedeno and Bob Watson all have their respected lockers in the Hall of Fame Alley. These Houston greats will get their chance to be honored this August. For a quick look at some exclusive giveaways click here.