Everything you need to know about Astros FanFest 2021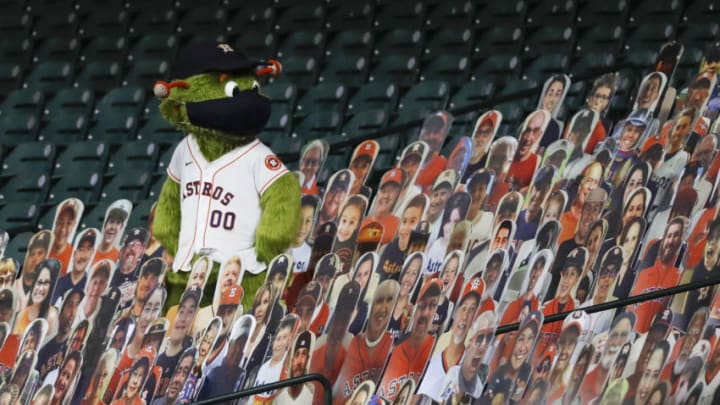 HOUSTON, TEXAS - AUGUST 12: Houston Astros mascot Orbit wears a mask while standing in a crowd of fan cut-outs during the game against the San Francisco Giants at Minute Maid Park on August 12, 2020 in Houston, Texas. (Photo by Tim Warner/Getty Images) /
Due to the COVID-19 pandemic, the Houston Astros FanFest has become virtual for the first time. As many fans would browse the concourses of Minute Maid Park and interact with the players, it all comes from a link in 2021. The dreaded link has been a defining aspect of the past year, but the online FanFest is a part of the protocols.
The Astros, like all MLB teams, didn't have fans in their ballpark in 2020, but other teams and professional and collegiate leagues have shown it can be possible for fans to attend games. Based upon city and state mandates combined with what the organization thinks, Minute Maid Park is expected to house fans during the 2021 season.
What can you expect from the virtual Astros FanFest, and when is it?
Now on Feb. 27, fans can join the FanFest through the social channels of the Houston Astros, which includes Facebook, Twitter, and Instagram. They can expect fan forums, fun videos, and more, and by the looks of it, there doesn't seem to be a lot that fans will be able to interact with. From the photo on their website, it hits to player interviews. The event will be from 10 am to 4 pm central time. The organization will also have their store open and stadium tours for the coming season, along with a virtual buddies bundle.
Schedule:
This won't be the same fan experience of that in years past, but it is what the team can do during the pandemic. The Astros have a link to sign up for more information and updates on the FanFest, and while a little over a week away, the Astros team could look a little different if they were to sign one more piece to their contending team.