Houston Astros appear to be prioritizing bullpen upgrades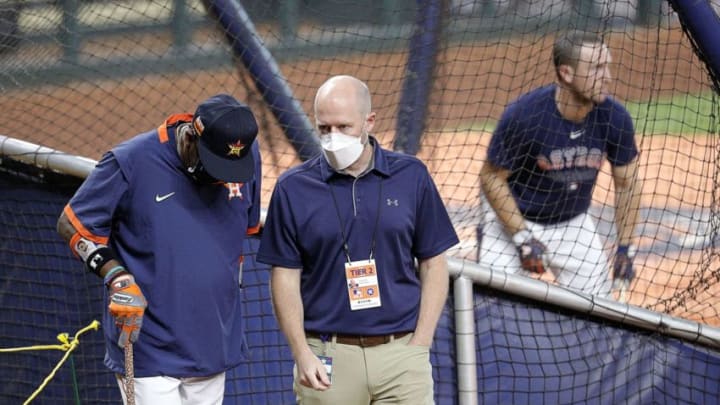 James Click talks with manager Dusty Baker #12 of the Houston Astros during batting practice before a game against the Los Angeles Dodgers at Minute Maid Park on July 29, 2020 in Houston, Texas. (Photo by Bob Levey/Getty Images) /
The Astros' top priority this winter is upgrading the outfield, but addressing the bullpen appears to be just as much of a focal point.
The Houston Astros are interested in free-agent reliever Liam Hendriks and appear to be prioritizing upgrading the bullpen. After all, Roberto Osuna is a free agent and the 2020 season underscored that having depth – in the rotation and bullpen – is critical for the team going forward.
Once again, general manager James Click expressed to reporters his desire to add a high-end arm in the bullpen.
"There is a real value and a real comfort to having that guy who you can count on in those really tight, really high-leverage situations," Click said. "I think Pressly has all the tools to do that. Beyond that, I think there are some guys in our bullpen who could grow into that role. But at the same time, there are some very talented relievers who are available in free agency, and whether we stamp them as capital 'C' closer or not, we are going to do everything we can to shore up our options in those late-inning, high-leverage situations."
Hendriks is the obvious choice. He is the consensus top reliever in free agency and among the most dominant relievers in the game. The price to sign him, however, will not be cheap, as there is a growing expectation that he will land a four-year deal in the $12 million per year range.
The Astros will have other options. Other free agent relievers include Brad Hand, Alex Colome, Blake Treinen and others. Hand was surprisingly let go by the Cleveland Indians and should sign a one or two-year deal worth less than $10 million annually. Colome was solid in the late innings for the Chicago White Sox and likely to land a multi-year deal. And while Treinen is not the same dominant pitcher he was with the Oakland Athletics, he is one of the top arms available and would be an upgrade over Osuna.
The bulk of the Astros' money will go toward the outfield. But based on comments from Click and manager Dusty Baker, upgrading the bullpen appears to be a high priority.