Astros Rumors: Houston pursuing top free-agent reliever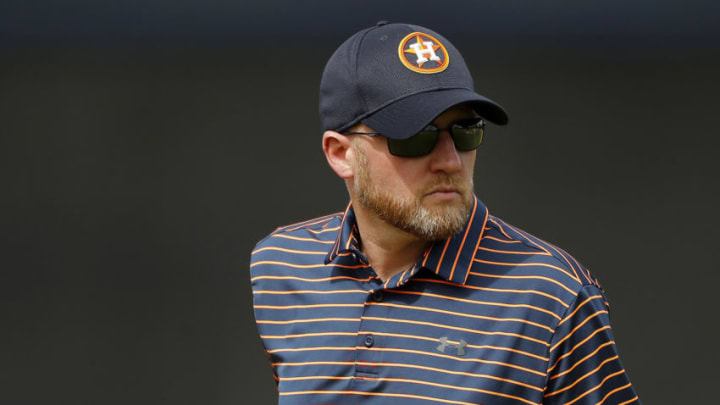 James Click of the Houston Astros looks on during a team workout at FITTEAM Ballpark of The Palm Beaches on February 13, 2020 in West Palm Beach, Florida. (Photo by Michael Reaves/Getty Images) /
The Houston Astros are looking for bullpen help and, according to a report, they're pursuing the top free-agent reliever.
The Houston Astros are scouring the market for outfield and bullpen help. Recent reports have linked the team to Michael Brantley and Jackie Bradley Jr., but there has been little-to-no indication of who they are pursuing to upgrade the bullpen.
Until now.
The Astros are among the teams pursing free-agent reliever Liam Hendriks, according to Jeff Passan of ESPN, who lists the Toronto Blue Jays, Chicago White Sox and Los Angeles Dodgers as other interested teams.
Hendriks, 31, is the consensus top reliever in free agency and would be a massive addition for the Astros. He would replace Roberto Osuna in the ninth inning and provide a significant addition to a bullpen in desperate need of help, with his 1.78 ERA and 37/3 strikeout-to-walk ratio in 25.1 innings in 2020 putting him in an elite category among relievers.
The price to sign Hendriks, however, is believed to be high. There are indications that Hendriks is likely to land a four-year deal and it is possible it could eclipse $10 million per season. But he is not attached to the qualifying offer, meaning the Astros would not need to part with a draft pick to sign him.
For an Astros team looking to replenish their farm system, that could make all the difference. But general manager James Click is pursuing other options outside of Hendriks, and likely will check in on all the top free-agent relievers, including Brad Hand, Blake Treinen and Alex Colome, among others, to identify value.
There are no signs that Hendriks is close to signing, but the fact that the Astros are involved is a positive sign that the team hopes to compete in 2021 despite the looming loss of George Springer. That said, it is likely the Astros are unable to sign Hendriks. The price, simply, may be too high when they can sign one or two relievers at a discounted rate in January.