Astros: CTH Writers predict the Winter Meetings for Houston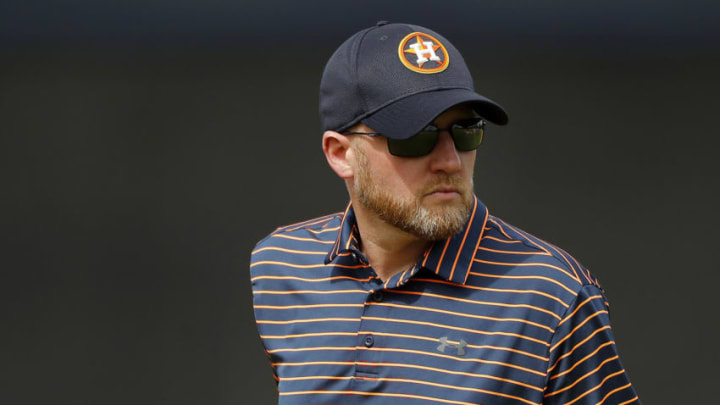 James Click of the Houston Astros looks on during a team workout at FITTEAM Ballpark of The Palm Beaches on February 13, 2020 in West Palm Beach, Florida. (Photo by Michael Reaves/Getty Images) /
The Winter Meetings started on Monday, so we asked the Climbing Tal's Hill staff: What is one bold prediction for the Astros this week?
Dan Shedd
I still think the Astros should go after Jackie Bradley Jr. in the Winter Meetings. He has the talent both offensively and defensively that we need in a center fielder and would be a great addition to the outfield. His numbers from last year are very impressive, especially in the shortened 60-game season.
On the mound, I believe the Astros should go after a high-end relief pitcher with my personal preference being Liam Hendriks. He had a great 2020 season on the mound with 3-1 record, 1.78 ERA with 37 strikeouts. Keith Law of The Athletic has him ranked in his top 40 of best free agents available saying in his scouting report:
"Hendriks' transition from a control-artist starter with average velocity to a power reliever has been remarkable. He has gained about 5 mph on his fastball over the last seven years, and since the start of 2019 has been the most valuable reliever in baseball by fWAR."
Matthew Kunkel
The Astros acquire a closer. While most of the outside focus will be on addressing the openings in the outfield, I think the Astros will prioritize getting another elite level closer in Houston. Ryan Pressly served admirably in the interim role last year, but having a high-end established closer on the roster is vital if Houston wants to get back to a true championship level.
There seems to be a potentially cratered market for all the non-superstar players this winter, especially in the closer position where no moves have been made as of yet. This gives Houston an opportunity to go acquire the services of an All-Star level closer via free agency at a significant discount. I predict Houston will go after the top guys in the free agent market: Liam Hendriks, Blake Treinen, Alex Colome and Brad Hand.
Hendriks seems to have the biggest market of all the closers and will likely end up in LA or New York with bags of cash at his doorstep. Treinen would be a good fit for Houston, but he's also has interest from a plethora of other teams (Marlins, Phillies, Cubs, Blue Jays, Red Sox, White Sox) which makes signing him less likely. Alex Colome had a sneaky really good year for the White Sox, but the dip in velocity and strikeout rate may be cause for concern.
Which leads me to Brad Hand. He's an All-Star caliber pitcher in the prime of his career who has an elite lefty slider and doesn't give up big hits. He certainly doesn't have the elite pitch velocity like some of these other closers, but he's just as tough to hit.
If the Astros miss out on these four, guys like Trevor Rosenthal, Archie Bradley or Kirby Yates would certainly be solid consolation prizes. And if that fails, perhaps James Click can give the Brewers a call about that Josh Hader fella.
Robert Murray:
I think the Astros do nothing at the virtual Winter Meetings.
Yes, I know, that is the boring answer and probably not what you want to hear. But the general feel throughout the industry is that there will not be much activity this week despite pitchers Raisel Iglesias and Lance Lynn being traded on the first day.
Besides, the Astros appear content waiting out the market. If they do leave the Winter Meetings with a new player, it is likely to be an outfielder such as Jackie Bradley Jr. or Michael Brantley. The interest league wide in both players is strong and general manager James Click may need to get aggressive to secure either player.
But the Astros' needs extend beyond the outfield, and with most teams dealing with financial constraints, they will need to be careful with how they spend. They may be better off waiting to address the holes on the roster in a few weeks when the prices to sign these players will be cheaper.
Kenny Van Doren
The Astros are in a bigger hole that anyone else might see. The plan is to bring back Michael Brantley, but what if they can't, and he goes to the New York Yankees? They also are in need of another veteran arm for their starting rotation. Here is my hopeful signings and talks for the Houston Astros during Winter Meetings:
Michael Brantley. The more I write about Brantley, the more I'm skeptical about him playing left field for the Astros. After the loss of George Springer, the defensive rating for Houston dropped substantially, and Brantley isn't what he used to be. He is starting to deal with leg injuries once again, and at age 33, he could see more time in a DH role. The issue, however, is that Yordan Alvarez is coming back in that role next season. The Astros should re-sign Brantley on a two-year deal and take the bat over the defense. While he is not the fastest guy or most nimble in the outfield, Brantley isn't a player who will make many mistakes.
Jackie Bradley Jr. has been an easy target for the Astros to pursue this offseason. JBJ had an outstanding year in 2020, but 60 games might not be enough to evaluate his struggling bat of the past. JBJ isn't Springer, but he does add the defensive aspect that the Astros lost with the departure of Springer. The Red Sox recently announced he is still on their radar.
Blake Treinen. I've been high on Treinen since the World Series, and I will still ride this theory until he signs somewhere. The Astros are in need of some arm help in the bullpen for 2021, and a veteran closer with top notch movement is on the market. Treinen was a Los Angeles Dodger in 2020, and while he has closer experience, he was used in a setup role for Kenley Jansen. His contract and value has seemed to regress since his lights out season in 2018, but that is solely on injury and use. Treinen is worth around $5 million a year while a high end closer like Brad Hand will be worth close to $10 a year. The Astros are in a great position to save money and revive the career of Treinen with Brent Strom's magic.
My checklist:
– Center fielder
– Veteran Reliever
– Another Starter
Andrew Gleinser
My Winter Meetings prediction for the Astros is simple and, unfortunately, rather boring: I predict they'll do nothing. GM James Click has plenty of needs to fulfill, of course, with two starting outfielders, a backup catcher and a couple of veteran relievers on the team's wish list this offseason. But due to a confluence of several factors, I don't think they'll make any moves just yet.
For one, it's been a slow offseason so far, as we had expected. Some teams are still trying to figure out exactly what their budgets will be after a difficult 2020 season financially. We also know that MLB has informed teams to prepare as if the universal DH will not continue for 2021, which means DH types will see their markets shrink. That could slow the hot stove even further.
What we've seen so far from Click is limited, but he doesn't seem prone to making fast moves in the vein of Mariners GM Jerry Dipoto or new Angels GM Perry Minasian. He stood pat at the trade deadline and hasn't made a move yet this offseason, so I would expect him to wait out the market rather than striking quickly.
We also don't know whether the Winter Meetings being virtual is going to have any effect on the overall volume of transactions made, so that's something to keep an eye on. The Astros certainly have moves to make, and they could make them during the meetings, but I'll be pleasantly surprised if they do.