Houston Astros don't protect Jose Alberto Rivera before Rule 5 draft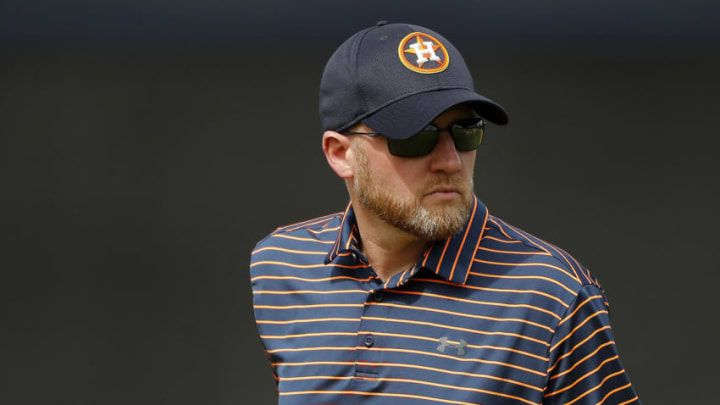 James Click of the Houston Astros looks on during a team workout at FITTEAM Ballpark of The Palm Beaches on February 13, 2020 in West Palm Beach, Florida. (Photo by Michael Reaves/Getty Images) /
Jose Alberto Rivera was not protected by the Houston Astros. Now, he could be selected in the Rule 5 draft on December 10.
On Nov. 20, the Houston Astros announced the players they protected from the Rule 5 draft in December. Among those protected include Forrest Whitley, Jairo Solis, Peter Solomon, Tyler Ivey and Freudis Nova. One name that didn't make the list, however, was right-handed pitcher Jose Alberto Rivera.
Rivera was signed out of the Dominican by the Astros in 2016 for $10,000. He has bounced around among minor league teams from Rookie ball to Class A and one reason for the slow development for the 23-year-old is that he signed at an older age (19) compared to Cristian Javier, who the Astros signed at 18 years old. Another issue is that he was not ready to contribute immediately after coming to the United States.
Rivera last pitched for the Class A Quad City River Bandits in 2019, while someone of the same age as Javier was pitching AA-AAA, and could be the reason why the power pitcher wasn't protected. Rivera saw a jump in fastball from 89-93 mph to 94-98 mph with a top speed of 100 in 2018, while striking out a total of 53 batters in 49 innings in Rookie and Short-A ball.
Along with the thriving fastball, Rivera has an arsenal of a changeup and slider. His changeup varies in the mid-80s while his slider reaches closer to 90 mph. Although his slider seems to be faster than average, there is not much tail to it as it almost drops into the zone for right-handed hitters. Control overtime might also be an issue for Rivera as he started giving in to more contact at the end of 2018. This has led to the idea that he could be a hybrid starter/long reliever of the future along with an opener role. The 6'3″ lanky right-hander has a long windup, similar to pitcher Aroldis Chapman, to the plate that increased his spin rate but also had decreased his endurance significantly, which in the end will result in smaller outings.
According to MLB.com, Rivera ranks 14th on the Astros prospect rankings. The Rule 5 draft will be on Dec. 10th, and this could be the last time we see Rivera in the Astros system. There is still a chance teams might not want to take a lower-level minor league prospect, and in two years he could be a reliable reliever out of the bullpen.