Astros: One writer mentions Houston as fit for Marcell Ozuna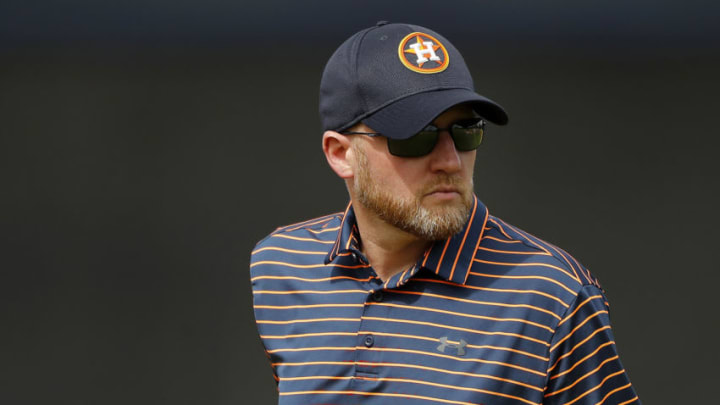 James Click of the Houston Astros looks on during a team workout at FITTEAM Ballpark of The Palm Beaches on February 13, 2020 in West Palm Beach, Florida. (Photo by Michael Reaves/Getty Images) /
The Houston Astros are scouring the market for outfielders, and one outlet believes they could be a match for one of the top free agents available.
The Houston Astros have been heavily connected to free-agent outfielders Jackie Bradley Jr. and Michael Brantley this offseason. Brantley has thrived in Houston the last two years and Bradley Jr. presents the best option to replace George Springer, who is increasingly likely to play elsewhere next season.
One name not linked to the Astros, however, has been Marcell Ozuna. The 30-year-old mashed with the Atlanta Braves in 2020, hitting .338/.431/.636 with 18 home runs and 56 RBI. He resembled the player that had many scouts and analysts high on his future when he left the Miami Marlins in 2017 and is now primed to cash in during free agency.
MLB.com listed "possibilities" for Ozuna in free agency and mentioned the Astros as a potential fit for Ozuna. They added a caveat that it may not be the strongest match, putting Houston near the bottom of their rankings.
The most obvious hurdle that would prevent Ozuna from signing in Houston is Yordan Alvarez, the Astros' primary designated hitter. Ozuna is a below-average defender and thrived with the Braves as the teams DH (39 games) and would prefer to remain in that role going forward.
Another factor that will prevent the Astros from signing Ozuna is the price tag. MLB Trade Rumors projects Ozuna to sign a four-year, $72 million deal this offseason and if the Astros are unwilling to pay $20+ million for Springer, it is unlikely they spend that kind of money on a player they're not familiar with that also brings less to the table.
While Ozuna at least makes some sense, the Astros are far more likely to look in another direction. It is unlikely the team will be able to sign both Bradley Jr. and Brantley this winter, so it is possible that they sign one and look to sign another outfielder in free agency (Jake Marisnick?) to fill out their outfield.
Just don't expect that other outfielder to be Ozuna.