Astros news: 3 guys who must step up in Alvarez's absence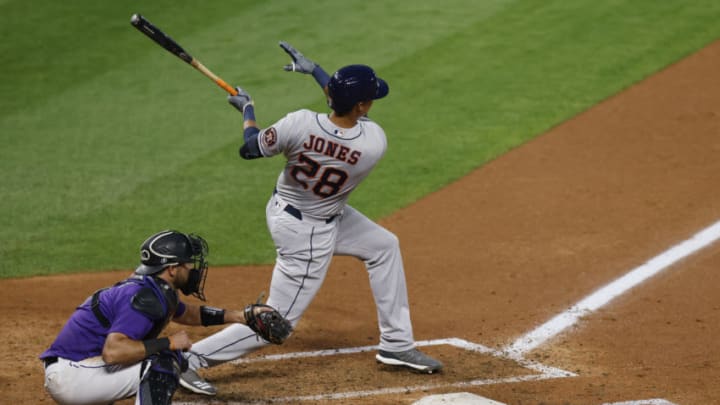 Houston Astros, Taylor Jones (Photo by Justin Edmonds/Getty Images) /
Houston Astros, Taylor Jones (Photo by Justin Edmonds/Getty Images) /
The Houston Astros will officially be without last year's AL rookie of the year Yordan Alvarez, so here are three guys that need to step up.
I'm writing this article in the happy afterglow of the smashing of the Colorado Rockies. The sun is shining at midnight here on the east coast as I think about how easy it will be for the Houston Astros to fill the gap left by Alvarez.
Of course, it won't be that easy. It's going to be incredibly difficult, probably impossible. But after putting up 13 runs without Alvarez and, bonus points, without Alex Bregman, there's reason to be optimistic.
Twenty hits have a way of doing that, especially when 12 those hits came from guys that have not been hitting—George Springer, Jose Altuve, Abraham Toro, Kyle Tucker, Taylor Jones. It's kind of a big deal.
Yordan Alvarez is out for the year, so here are three replacements
Still, it's all hands on deck to cover for the loss of Alvarez. The three guys I'm going to highlight aren't the kinds of guys we already expect a lot from. Springer and Altuve, for instance, are expected to carry their weight and they're already having trouble doing that, so asking them to fill the Alvarez void too is just… pointless.
Instead, I'll highlight three guys with the tools to fill the gap, maybe as a three-piece, or maybe as a pair, if one can't cut it. Or hell, maybe it'll be a one-man show. But let's get to it with No. 3.
3. Taylor Jones
Taylor Jones had his big year at AAA last year, belting 22 home runs and driving in 86 RBIs. He's got the stature of a guy that looks like he could fill Alvarez's shoes, but there's just so little numerical evidence to support Jones's attempts to do anything of the sort.
Which is why we need him to step up more than ever. Like I said, Springer, Yuli Gurriel, Alex Bregman—these guys are all established. Jones is a wild card. Whatever he produces is basically bonus money. Plus, seeing him put that sweet swing on the ball against Colorado, driving in his first big league RBI… well, let's just say that's something I could get used to.
On to No. 2.