Astros commit to paying minor leaguers through August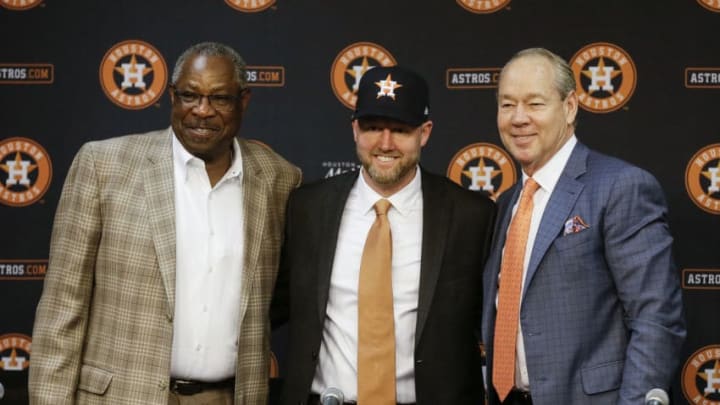 HOUSTON, TEXAS - FEBRUARY 04: Houston Astros manager Dusty Baker, left, Houston Astros General Manager James Click and Houston Astros owner Jim Crane introducing Click as the new general manager dy=uring a press conference at Minute Maid Park on February 04, 2020 in Houston, Texas. (Photo by Bob Levey/Getty Images) /
The Houston Astros will pay their minor league players through August.
With so much uncertainty surrounding whether there will even be a major league season this year, the status of many minor league players has been up in the air. News recently broke that the Oakland Athletics will not pay their minor leaguers beyond the end of May. The Houston Astros, however, will continue paying their players through August 31.
The Astros made the announcement on Friday as most teams are deciding what to do with their minor leaguers. All players currently in the system will receive their weekly paychecks and their benefits through the end of August, which must come as a relief to so many struggling players and families.
Astros Make Some Cuts
The Astros did cut some players from their minor league system, which a number of other teams have done as well. JJ Cooper with Baseball America reports the team has cut 17 players in the past week, plus one more who was cut in March.
These players were likely to be released anyway. Most of them were late-round draft picks or international free agent signings, and they're all coming off 2019 seasons that would be considered unspectacular at best. Even if there was a minor league season, they probably would have lost their places in the organization anyway.
Some new players will be coming in by way of the draft and undrafted free agent signings, and there will likely be fewer minor league spots in each organization in the coming years. The team's decision to release these players, while unfortunate, has little to do with the pandemic.
Still, it's good to see the organization commit to providing its remaining minor leaguers with their full salaries and benefits. It's the least they can do, considering the circumstances. Oakland's minor leaguers who aren't getting paid will not be able to file for unemployment benefits due to the fact that they're still under contract. Teams either need to release them or pay them, and the Astros are doing that.
At this point, it seems unlikely that there will be a minor league season at all in 2020. Nonetheless, keeping these players in the system is important for the team's future success. The Astros certainly have the money to pay their prospects, so it's good to see them doing the right thing.