Astros: Reviewing the 1971 Joe Morgan trade with Reds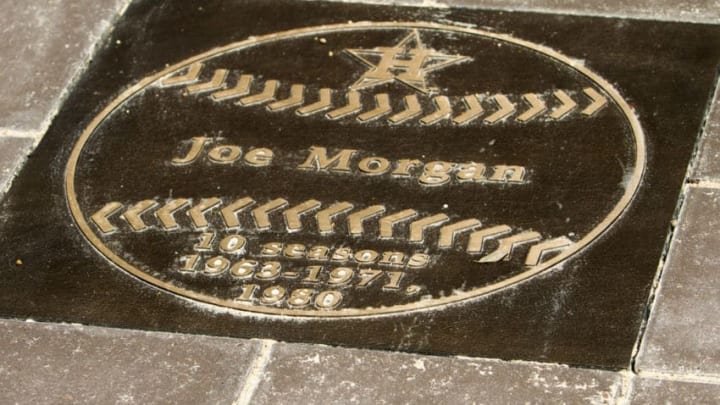 HOUSTON, TX - JUNE 22: Former Colt .45s/Astros All-Star second baseman Joe Morgan is inducted into the Astros Walk of Fame at Minute Maid Park on June 22, 2012 in Houston, Texas. Morgan played parts of his first nine Major League seasons with the Colt .45s (1963-64) and Astros (1965-71) in what would ultimately be a Hall of Fame career from 1963-84. (Photo by Bob Levey/Getty Images) /
We take a look back at the trade in which the Houston Astros sent Joe Morgan to the Reds.
November 29, 1971 might as well be referred to as a date which will live in infamy, at least as far as the Houston Astros are concerned. That's the day they traded future Hall of Famer Joe Morgan to the Cincinnati Reds.
The Astros sent Morgan, Ed Armbrister, Jack Billingham, Cesar Geronimo and Denis Menke to Cincinnati in exchange for Lee May, Tommy Helms and Jimmy Stewart (no, not the actor). It turned out to be one of the most lopsided trades in history after Morgan became a star.
He was a good player in Houston, though not as good as he would later become. He first broke in as a 19-year-old in 1963 and would become the team's regular second baseman in 1965, leading the majors in walks. He stole 40 or more bases in each of his final three seasons in Houston, not hitting for a great average or much power, but getting on base and playing solid defense. He made two All-Star teams.
But Morgan ran afoul of Astros manager Harry Walker, which is what led to his trade. Morgan believed Walker was a racist, while Walker claimed to have issues with Morgan's attitude. Fellow Astro Jimmy Wynn also had his issues with Walker. The worst part of it all is the Astros would fire Walker less than a year after they traded Morgan.