Houston Astros: Which players will break out in 2020?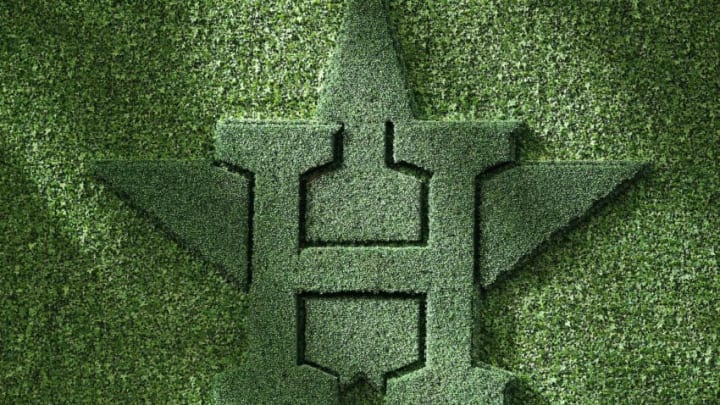 HOUSTON, TEXAS - OCTOBER 22: A view of the Houston Astros logo in centerfield during batting practice prior to Game One of the 2019 World Series between the Houston Astros and the Washington Nationals at Minute Maid Park on October 22, 2019 in Houston, Texas. (Photo by Bob Levey/Getty Images) /
It's been 13 days since MLB announced the indefinite delay of Opening Day 2020 and cancelled Spring Training due to coronavirus. It seems like an eternity since we've talked about Houston Astros baseball, so let's project what the start of the season could look like once we've flattened the curve and our lives can finally ramp back up with baseball.
When Spring Training opened in February 2020, a total of 59 Houston Astros players reported to FITTEAM Ballpark in West Palm Beach, Florida – 31 pitchers and 28 position players. When Spring Training was cancelled on March 12 due to COVID-19, 42 players remained – 19 pitchers and 23 position players.
Nothing is certain about when Spring Training will start up again and no one knows who will be called to report when it resumes. Giving it a best guess, here are some presumed assumptions about the non-roster invites to camp who have reportedly not yet been optioned or reassigned.
With Jared Hughes requesting his release, when Spring Training does resume, camp will presumably start with 41 players reporting, 33 from the 40-man roster – 17 pitchers and 16 position players – and the remaining eight non-roster invitees could potentially consist of one pitcher and seven position players.
WEST PALM BEACH, FLORIDA – FEBRUARY 18: Forrest Whitley #68 of the Houston Astros throws a bullpen during a team workout at FITTEAM Ballpark of The Palm Beaches on February 18, 2020 in West Palm Beach, Florida. (Photo by Michael Reaves/Getty Images) /
Pitching
It probably comes as no surprise that Forrest Whitley is the sole remaining pitcher on the potential list of non-roster players that could return to camp. And even with the uncertainty of a date to resume Spring Training, the starting rotation remains in limbo.
With Justin Verlander recovering from both groin surgery and a lat strain, it is yet to be seen whether the Astros will be filling two or three spots in the rotation, at least for the beginning of the year. Of course it goes without saying that the longer we wait for Opening Day, the closer we are to only requiring two spots to be filled in the back of the rotation, numbers four and five.
Regardless of any of that though, it seems quite clear that Whitley is not ready for his debut, at least for the moment. Entering his fifth season with the Astros, Whitley was the 17th overall pick in the 2016 draft straight out of high school. He remains the number one prospect in the Astros farm system.
Whitley only tossed six innings in four games during Spring Training. In this very, very small sample size, he faced 29 hitters, striking out seven, walking three, and one HBP. His 7.50 ERA speaks to his readiness, or rather lack thereof, and is evidence why he likely won't be considered for the 2020 rotation.
He is the only pitcher not on the roster who could return once Spring Training resumes, and fans are excited for the prospect that he at least makes his debut in the show in 2020. But much of this depends on when the season starts and how long it will be.