Astros lose to Nationals forcing World Series Game 7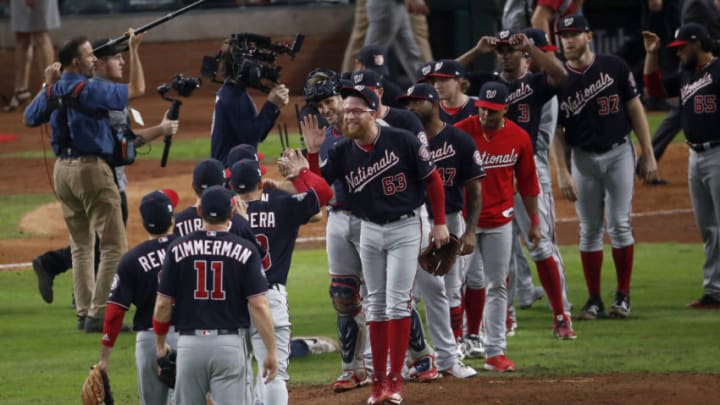 HOUSTON, TEXAS - OCTOBER 29: Sean Doolittle #63 of the Washington Nationals celebrates the 7-2 win against the Houston Astros with his teammates in Game Six of the 2019 World Series at Minute Maid Park on October 29, 2019 in Houston, Texas. (Photo by Tim Warner/Getty Images) /
It's a rainy day, the Astros and a capacity crowd flowed into Minute Maid Park hoping to see the hometown 25 clinch a second World Series in three years.
The Astros certainly had their ace on the mound in Justin Verlander, and he was searching for his first career World Series win and a game six finale to the season.
Both offenses got out to a hot start. Trea Turner started the night with a grounder where he was called out, but after being reviewed, the call was overturned. He eventually found his way to second and was then driven home by Anthony Rendon. It was 1-0 Nationals after a half-inning.
In the bottom half of the inning, George Springer wanted to make sure they retaliated immediately. Springer doubled to left field to lead off the game, made his way to third on a wild pitch and came home on a Jose Altuve sacrifice fly. It was 1-1. Alex Bregman batted after Michael Brantley was called out on strikes if it could be called a strike, and Bregman promptly sent one into the Crawford boxes to give the Astros a 2-1 lead.
The lead stayed 2-1 until the top of the 5th when Adam Eaton hit a home run to left and the game was tied again. It was 2-2 until two batters later when the 21-year-old Juan Soto hit a bomb into the upper deck in right field and the Nationals lead 3-2 and never looked back.
We go to the top of the 7th inning and things got a little dicey. With a runner on first base, Trea Turner hit a groundball that was thrown to first, but Turner got in the way causing Yuli Gurriel's glove to fall off. The ball went past the first base side and it looked like the Nationals were going to have runners on second and third with nobody out.
However, the umpire called Turner out for running inside the baseline, and the Nationals dugout was furious. In what shouldn't have been a reviewable call, the umpires deliberated with the replay center in New York, and the call was upheld. The runner, Turner, was out, and the initial baserunner went back to first.
After a lot of wasted time, on a call that was correct in the first place, Anthony Rendon hits a moon-shot to left field, and it was 5-2 Nationals.
To the top of the 9th and Anthony Rendon batted again with two runners on and doubled to center field, scoring two. It was now 7-2 Nationals.
The Astros mustered a double in the bottom of the 9th by Carlos Correa, and nothing else, and the final Tuesday night ended at 7-2.
There will be a game seven in Houston on Wednesday. The matchup will be Zack Greinke vs. Max Scherzer. It's for all the marbles Wednesday night. One more chance to #takeitback.