Astros: Unsung heroes of the ALCS win vs Yankees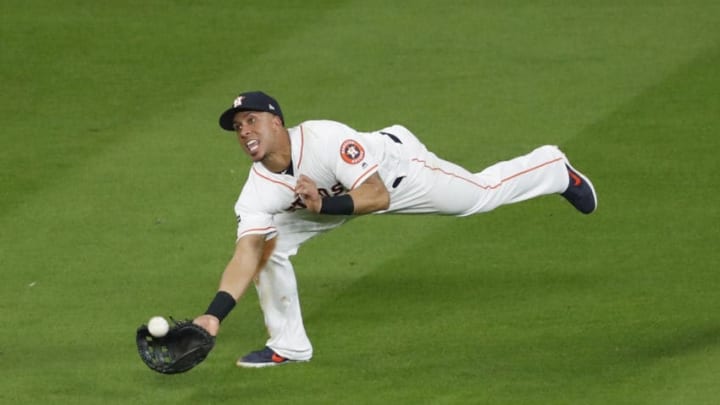 HOUSTON, TX - OCTOBER 19: Michael Brantley #23 of the Houston Astros makes a diving catch in the seventh inning against the New York Yankees during Game Six of the League Championship Series at Minute Maid Park on October 19, 2019 in Houston, Texas. (Photo by Tim Warner/Getty Images) /
The Astros defeated the Yankees in the ALCS thanks to more than just Jose Altuve.
Jose Altuve was named ALCS MVP, and rightfully so. He was the best player the Astros had this series, and his walk-off home run in Game Six was undoubtedly one of the biggest hits in franchise history.
But they wouldn't have made it to that point without contributions from several key players. Baseball is, after all, a team sport, and this team won the pennant together. Here are some players who may not have been MVPs, but played big roles in helping the Astros advance to the World Series.
Brantley was the team's second-best hitter in the ALCS. He finished with a .304 batting average and .407 on-base percentage for the series and was part of several key rallies for the Astros offense.
He also made an incredibly important play on defense in Game Six. His diving catch in the seventh inning and his accurate throw to double off Aaron Judge at first base was huge. It canceled a potential rally by the Yankees and helped set the stage for the dramatic finish.
HOUSTON, TEXAS – OCTOBER 19: Carlos Correa #1 of the Houston Astros celebrates the inning ending double play against the New York Yankees during the eighth inning in game six of the American League Championship Series at Minute Maid Park on October 19, 2019 in Houston, Texas. (Photo by Elsa/Getty Images) /
Correa only hit .182 in the ALCS, but his .780 OPS was second only to Altuve. He didn't have many hits, but the ones he had were big. He had an RBI double and the walk-off homer in Game Two, as well as a three-run blast in Game Four.
He also played excellent defense at shortstop, showing off his cannon to finish off a double play in the eighth inning in Game Six. A healthy Correa makes the Astros defense that much better, even if his bat is lacking consistency. Of course, many Astros bats were lacking consistency in the ALCS.
The Bullpen
The relief corps wasn't perfect by any means. Roberto Osuna blew the save in Game Six, and Ryan Pressly and Bryan Abreu got hit hard in Game One. But on the whole, this group matched the Yankees vaunted bullpen pitch for pitch.
Will Harris was again the team's best, allowing just one hit and one walk in 3.2 scoreless innings. Joe Smith was utilized more in late game situations and did well, allowing one run in 3.2 innings. Pressly rebounded to get some key outs as well.
The bullpen game on Saturday was strong. Brad Peacock made quick work of the Yankees in the first inning, and Josh James got some key outs behind him. Jose Urquidy struck out five in 2.2 innings to punch himself a ticket into next season's rotation mix.
Even Osuna had thrown four scoreless innings in the ALCS prior to his blown save. This bullpen passed some difficult tests in this series and should give the Astros a key advantage over the Nationals in the World Series.
Game One will take place on Tuesday evening at Minute Maid Park. Gerrit Cole is slated to match up against Max Scherzer, so it's sure to be a blockbuster.