Astros' prospects Stubbs, Mayfield & Fisher filling in nicely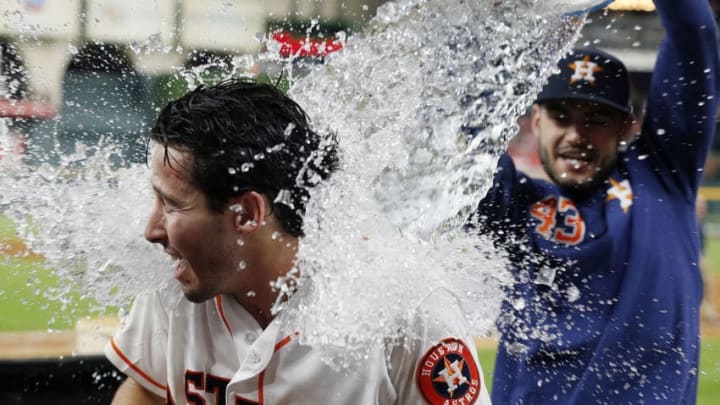 HOUSTON, TEXAS - MAY 28: Garrett Stubbs #11 of the Houston Astros gets doused with water from Lance McCullers, Jr. as he is interviewed after the game at Minute Maid Park on May 28, 2019 in Houston, Texas. (Photo by Bob Levey/Getty Images) /
Even with the injuries, the Astros have endured lately, they don't seem to skip a beat with prospects like Garrett Stubbs, Jack Mayfield, and Derek Fisher.
When a team loses six or seven of their players to injuries in a three-week span, you would normally expect some type of diminished result. Especially when they are All-Star worthy players like George Springer, Jose Altuve, and Carlos Correa. Not the Houston Astros. They just call on their deep pool of talent in the Minors, call up Stubbs, Mayfield, and Fisher and keep on winning.
The Astros have been beating playoff caliber teams, like the Boston Red Sox and the Chicago Cubs, with makeshift lineups. Three days ago Fisher gets planted in the lineup after getting called up, the next day Mayfield makes his Major League debut, and then yesterday Stubbs gets his turn debuting for the Astros.
Then you have Tony Kemp, Jake Marisnick and Yuli Gurriel asked to increase their playing time in extended roles to help fill in the gaps. As a result, A. J. Hinch has needed to be very creative with his roster and utilizing makeshift lineups almost daily. But yet, there is still no drop-off, they keep winning.
Since his latest promotion, Fisher has gone 4-for-11, with two runs, and two RBIs. Last night he was placed in the lead-off spot and didn't disappoint, reaching base twice, stealing a base and scoring twice.
All Jack Mayfield did in his debut game was double in his first Major League at-bat and then follow that up the next inning knocking in Gurriel for the first RBI of his career. The following night he draws a walk and later scores his first run.
Garrett Stubbs followed up Mayfield with his Major League debut, catching behind the plate for Corbin Martin. Stubbs, like Mayfield the night before, doubles in his first Big League plate appearance. Then two innings later he singles, knocking in his first RBI and then three batters later he scores on Michael Brantley's double.
I can't help but think how frustrating it must be for the opposing teams. Surely they look at the starting lineups feeling pretty confident in their chances for a victory. But yet, they still lose, and that's with pitchers like Cole Hamels and Jon Lester on the mound.
What's even more impressive is the fact that the Astros haven't even tapped into their top ten prospects yet. They still have the young and promising talents like Yordan Alvarez and Michael Tucker waiting in the wings. It's a pretty exciting time for the Astros' fan base now and in the future.