Astros Morning Snippets: More on Dallas Keuchel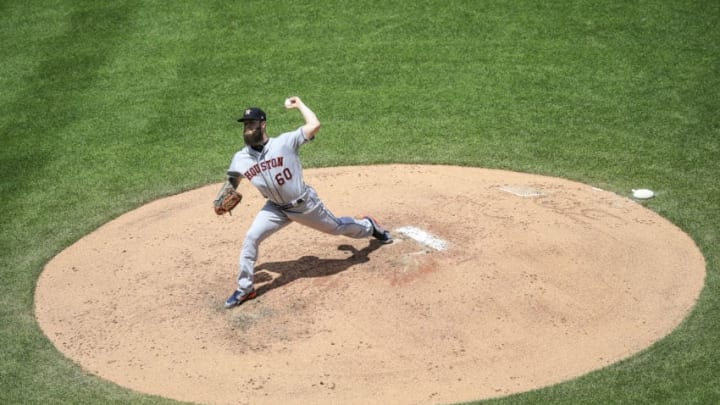 KANSAS CITY, MO - JUNE 16: Dallas Keuchel #60 of the Houston Astros pitches during the fourth inning against the Kansas City Royals at Kauffman Stadium on June 16, 2018 in Kansas City, Missouri. (Photo by Brian Davidson/Getty Images) /
The latest news around the Astros on March 8th, including more news about free-agent Dallas Keuchel and looking back at a past trade that paid dividends in more ways than one.
Astros have submitted two offers to Keuchel
Per Ken Rosenthal of The Athletic, Houston has recently(?) submitted two contract offers to Keuchel. In other news, this offseason continues to be weird for players.
It is still quite strange to see a pitcher like Keuchel still on the free-agent market in early March. For one, his track record suggests he could help most, if not all, rotations in baseball. Second, he would be an ideal fit for multiple clubs, including the Astros. If the 2015 AL Cy Young winner is fine with a shorter term contract, then I wouldn't rule out a reunion with Houston.
Looking back on the Josh Fields trade
The 2016 season for the Astros is largely forgettable, although it did help set the table for their World Series championship run in 2017. It is also a season that saw the Astros acquire one of their top prospects, Yordan Alvarez, from the Dodgers for reliever Josh Fields. In retrospect, the trade was a win in more ways than one, especially if you count Jose Altuve's and Carlos Correa's back-to-back solo home runs that helped propel Houston to a Game 2 victory in the 2017 World Series. A win that honestly changed the tide of the series.
Justin Verlander adding a changeup? 
One of the cool things about Verlander is that he is always looking for ways to improve his craft. He obviously made adjustments before and after his trade to Houston that helped re-establish him as a top starter in the majors. Per ESPN, it looks a changeup may be added to his repertoire. For context, Verlander only threw a changeup 1.5% of the time last season.