Forrest Whitley's continuing development is key for Astros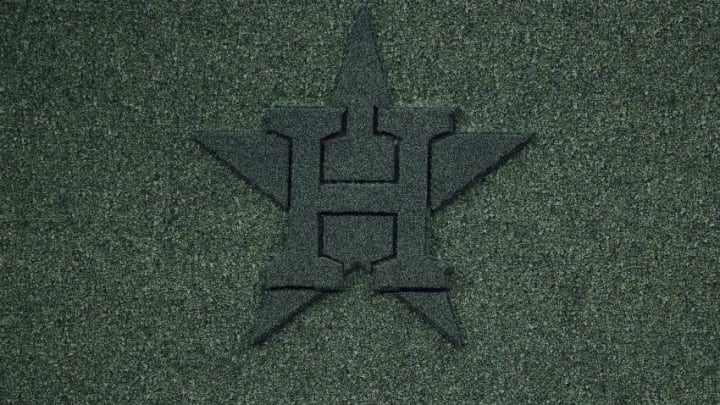 HOUSTON, TX - OCTOBER 06: The Houston Astros logo is seen on the centerfield wall before game two of the American League Division Series between the Boston Red Sox and the Houston Astros at Minute Maid Park on October 6, 2017 in Houston, Texas. (Photo by Ronald Martinez/Getty Images) /
The Astros' starting rotation is sort of in flux heading into the offseason. Development of the franchise's pitching prospects is key to their future success.
If the 2019 season started today, we're likely looking at a starting unit of Justin Verlander, Gerrit Cole, and three unknowns. I don't expect for Dallas Keuchel to resign with the Astros while Charlie Morton's return isn't a guarantee. Lance McCullers Jr. may or may not need offseason elbow surgery, which would impact his availability to at least start the 2019 season. Free agency and trades may play a part, but the young pitching talent bragged about on the farm must start producing sooner or later.
Even though Houston's front office deserves plenty of credit for assembling a championship-caliber roster, they haven't had a top prospect develop into a quality starting pitcher in the last few years besides McCullers Jr. Sure, I may be a bit picky on this subject, but it is something worth considering. Mark Appel didn't work out, then there was the whole Brady Aiken debacle. Both were number one picks by the Astros. Former farmhand, Michael Foltynewicz, a key starter for Atlanta, was part of the Evan Gattis trade a few years ago when he was still a prospect. I'm sure that the front office would love to see one-to-three current prospects step up and assume a role in the rotation.
It's a glaring issue for a club that has done such a terrific job at developing numerous position players and relievers. Outside of McCullers Jr., there isn't another starting pitcher prospect who has experienced sustainable success at the major league level with Houston in recent years. Someone who can step in and become a long-term piece on the staff. That's why it is crucial for the club's first-round draft pick in 2016, Forrest Whitley, to continue his ascent through the minors.
As you may recall, Whitley started his 2018 season suspended due to a violation of the minor league drug program. He ended up missing 50 games due to the ordeal. An oblique strain in early July pushed the young right-hander to the DL for the first time in 2018. A later lat injury in August forced him back to the DL a second time. When it was all said and done, Whitley finished the 2018 season throwing only 26 1/3 innings with a 3.76 ERA for the Corpus Christi Hooks. He is also pitching in this year's Arizona Fall League to get in some work.
Whitley was figured to be a possible part of the Astros' second-half push to the postseason in a similar role as David Price during his initial debut in the majors with the Rays. Unfortunately, the suspension and subsequent injuries placed the young pitcher behind the eight-ball all season long. That said, he figures to be a key part of Houston's plans next season. He still features a high-strikeout ability with a fastball reaching the upper nineties. Whitley also throws an impressive 12-to-6 curveball, a solid changeup, and a trustworthy slider. You can find some quality clips of Whitley pitching here and there.
As a former first-round pick and the club's top pitching prospect, Whitley has a lot of pressure riding on him. The Astros' hopes to supplement the rotation with young, quality talent partially rides with him. The same can be said of Josh James, Framber Valdez, J.B. Bukauskas, and others. But Whitley represents the high hopes of the farm system today. Let's say that his 2019 season will be an important one for him and likely the Astros.