Astros: The Nationals could be a trade partner soon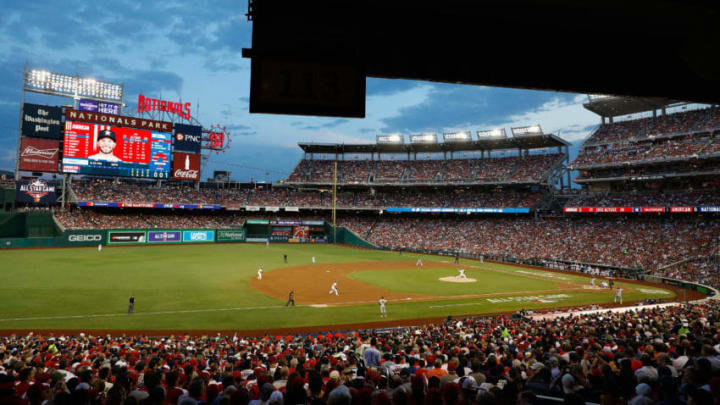 WASHINGTON, DC - JULY 17: A general view as Max Scherzer #31 of the Washington Nationals and the National League pitches to Jose Altuve #27 of the Houston Astros and the American League in the first inning during the 89th MLB All-Star Game, presented by Mastercard at Nationals Park on July 17, 2018 in Washington, DC. (Photo by Patrick McDermott/Getty Images) /
The trade deadline is less than a week from now, and the Astros have no clear trade partner.
Things could change if a familiar team falls out of the race. I wouldn't be surprised if that team has already started scouting the Astros farm system. The weird thing is that team should be in the playoff race, but that's baseball for you.
Of course, I'm talking about the Washington Nationals with one of the best starters in the game. The two teams share a spring training complex. Despite Max Scherzer, the Nationals find themselves 50-51 in third place in the NL East. To their defense, who would have thought the Braves and Phillies would have returned to competition so quickly?
Can the Nats and Stros work out a deal?
The Houston Astros did lose out to the Yankees with the Zach Britton trade, but other options could emerge if the Washington Nationals decide to sell. Over the next few days, the Nationals could decide to waive the white flag.
No, I'm not expecting the Astros to trade for Bryce Harper. Unlike the Dodgers, the Stros are not desperate to add a big bat before the trade deadline. No matter how good Harper is, they won't trade a huge haul for him. Unless there is a shift in plans, not sure if J.T. Realmuto is a real possibility. But, the Astros could use a reliever.
Yes, the Nationals already made some trades to improve the bullpen. They recognized their weaknesses early, but it could leave them a little short of making the playoffs. If Harper is not really an option, who could the Astros target?
The relievers
Brandon Kintzler
The big name that the Astros could have been after was Sean Doolittle, but he is currently on the DL. Seeing the energy that Juan Soto has brought to the team this year, they could be ready to bring in some younger talent. They will build around Scherzer, Soto, and Trea Turner and others.
After making the trade for Herrera, they will want to recoup some of the prospects they gave up. Like Zach Britton, Herrera is a rental player and has struggled a little with the Nationals (3.95 ERA). If they do decide to sell Herrera, they will not get equal value in return. Madson has struggled as well in 2018 with a 4.79 ERA. Kintzler is what he is, not an overpowering pitcher.
There could be other options, but the Nationals have to declare that they want to sell. Another FanSided site asked me about Harper today. This made me consider their relievers as well. All of the above relievers would be rentals, which the Astros tend not to prefer. The Nationals won today, so not going to investigate to much further yet. The ball is in their court.