Astros: Three players trending down following losing three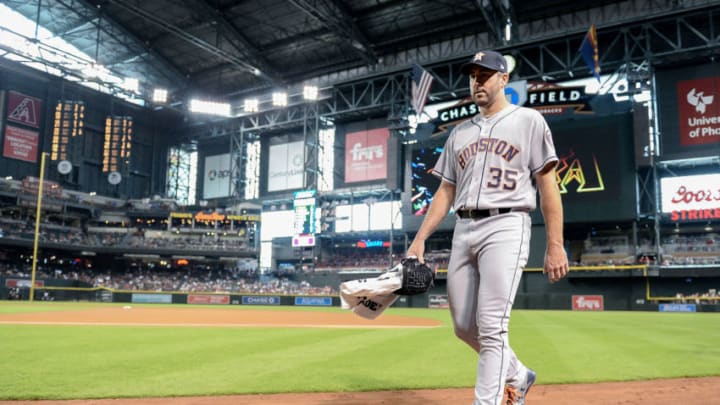 PHOENIX, AZ - MAY 06: Justin Verlander #35 of the Houston Astros walks to the dugout for the MLB game against the Arizona Diamondbacks at Chase Field on May 6, 2018 in Phoenix, Arizona. (Photo by Jennifer Stewart/Getty Images) /
The Astros end the month with three straight losses, but July provides for some opportunity.
The Astros are 55-31 and still in first place in the AL West by only half a game. After rolling through June with a 12-game win streak, the Astros close out June going 3-4 after dropping the last three to the Tampa Bay Rays. A 19-8 record doesn't make for a bad June, but it's concerning that the top three starters have taken back-to-back-to-back losses.
That 4.5 game lead against the Seattle Mariners, winners of seven straight is now only half a game, and the Oakland Athletics are not far behind.
The schedule does lighten up a bit for a chance to rebound and get to the All-Star break. The Astros will face the Texas Rangers (38-47) for a quick two-game series for the 4th of July then the come back home for nice eleven game homestand slated with bouts against the White Sox (29-54), Oakland Athletics (46-39) and Detroit Tigers (37-48).
The offense should be able to produce, and the starting pitching will have ample opportunities to bounce back. But in the meantime, let's look at who was trending down this past week.
Yuli Gurriel was in and out of the lineup last week and rightfully so. He welcomed home his newborn son, Jayren this past week. He returned to the lineup yesterday going 0-4. Before his paternity leave, he was 2-12. Stats from Baseball-Reference.
This was following a monster week last week. He is hitless in 3 straight. His mind may have been on becoming a father. That comes with a lot of emotions and distractions. The first baseman was granted 72 hours of paternity leave, but he probably should have taken some more time.
Teammates Marwin Gonzalez and George Springer continue to struggle to go a combined 3 for 48. Neither of them can trend down further than those two, which leaves Gurriel, a lone candidate for this list batting a .117 after going 8-23 two weeks ago batting a .348 he is now batting .294 on the season. There's no doubt in Gurriel will bounce back.
We briefly touched on Springer and Gonzalez and the surprising slump they are in. But Brian McCann's services were called on three times last week as this revolving door of catchers continues to rotate. He efforted one hit in 11 at-bats. 
He added three strikeouts and no runs or RBI. In fact, for June, McCann is .171 going 7 for 41. With Evan Gattis and Max Stassi having the hot bat, this allowed the veteran catcher and his slumps some time to bounce back. Time wasn't the case.
The musical chairs that is the catcher position allowed for one of the three to encounter a slump while the other two produced. Gattis is back to his hitting ways setting an RBI record in June, but Stassi and McCann are a combined 3-22.
As mentioned earlier, the schedule is gifting plenty of opportunities to heat up the bats as the dog days of summer are here. Hopefully, one of these guys will find themselves on the better side of these trends next week.
I never thought Justin Verlander would make this list this season. Hopefully, this is the first and only time he does land on the trending downs list. But, it is worth noting that the 9-4 veteran ace notched two straight losses in the last two starts. In his last two starts on the 25th and 30th of June, Verlander pitched a combined 11.2 innings allowing nine earned runs on 16 hits.
His once sub 2 ERA is now floating at 2.12 on the season. He still owns the best ERA in the American League and has pitched the most innings this season at 118.2. Verlander is still solid in strikeouts per 9 innings averaging just under 11 a game.
Let's look at what happened in his last two outings. The Blue Jays rattled him for 6.2 innings as he allowed four earned runs on seven hits. This including two long balls in the 6-3 loss. He tallied 6 Ks on 112 pitches which only 73 were strikes for a 65% strike rate.
On June 30th, the Tampa Bay Rays roughed him up for a quick five innings as he gave up five earned runs on nine hits. He struck out eight on 97 pitches which 68 of them were strikes for 70% in a 5-2 loss.
What gives?
Sure, the run support was little in both games but what is worth noting is Verlander hasn't given up four or five earned runs respectively all season. He also hasn't allowed more than six hits in 17 starts. He allowed seven and nine in back to back games.
Next: Astros Rumors: Interest in Reds' closer Raisel Iglesias?
Okay, so this is the outlier. Just keep an eye on it as the season starts its second half. He will face the White Sox and Athletics in two straight home games. Expect him to have two quality starts to bounce back.