Astros AM Breakdown: Team needs more of vintage Dallas Keuchel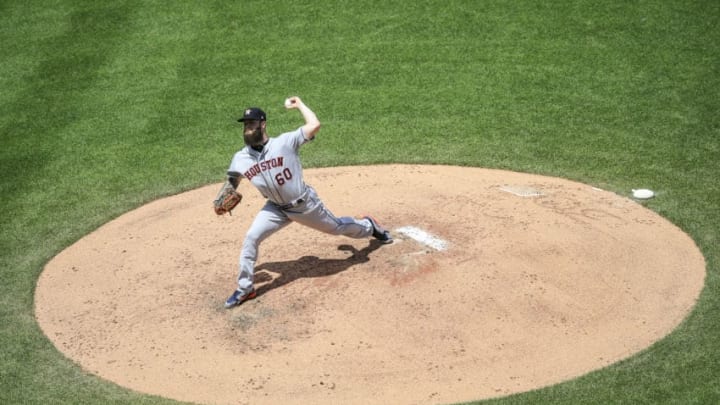 KANSAS CITY, MO - JUNE 16: Dallas Keuchel #60 of the Houston Astros pitches during the fourth inning against the Kansas City Royals at Kauffman Stadium on June 16, 2018 in Kansas City, Missouri. (Photo by Brian Davidson/Getty Images) /
As the Astros continue to contend with the Mariners for control of the AL West, one starter needs to return to form.
We are all familiar with Dallas Keuchel's up-and-down 2018 season. The Astros' southpaw had a 4.45 ERA entering Saturday's start against the Royals. In his previous three starts, Keuchel has surrendered 16 earned runs.
Some of the rough starts has been his own doing; other times were attributed to more bad luck. For example, Keuchel's start against the Rangers on June 10th was a particularly unlucky one as 12 of the 13 hits he surrendered were singles with an average exit velocity of 82.3 MPH.
Thankfully for Houston, vintage Keuchel made an appearance Saturday in Kansas City. Over six innings, the left-hander surrendered zero earned runs (two earned runs) while walking one batter and striking out five.
And the win streak is now up to ten games!
The Astros will need more of vintage Keuchel throughout the season. Although the rotation has been one of the best, it is unrealistic to expect all five pitchers to be at their best all the time. When others stumble, Houston will need Keuchel.
So, what should the Astros expect from Keuchel going forward?
Keuchel's pitch velocity has been roughly on par with his career averages per FanGraphs. And he still makes a living by generating stikes in the lower half of the zone. But in the games when he cannot create strikes in the lower part of the zone, then Keuchel runs into trouble. At the end of the day, the left-hander only needs fine-tuning rather than a radical overhaul. And to his credit, Keuchel appears to be healthy. One calendar year ago, Keuchel was on the disabled list with a neck injury. It is quite encouraging to see him pitching healthy.
Looking ahead, I wouldn't be shocked if Keuchel continues to rebound. There are signs (pitch velocity, health) that indicate better days may be ahead for the Houston starter.
Houston Astros News and Notes From Around FanSided
Brad Hand should be priority number one [House of Houston – T.A. Mock]
What if every player had a cool fan section? [Call To The Pen – Kyle Cardoza]
More Houston Astros and General Baseball News From Around the Internet
Trout, Davis, and the Largest Seasonal WAR Differentials [FanGraphs – Jay Jaffe]
Astros put up 10-spot as win streak hits 10 [MLB.com -Brian McTaggart]
That Wacky Astros Four-Man Outfield Shift Is Spreading [Deadspin – Chris Thompson]
Next: Cheers, the Astros sign their first-round pick Seth Beer
We hope you enjoyed this edition of the Astros AM Breakdown.