Astros select 1B/OF Seth Beer from Clemson in the first round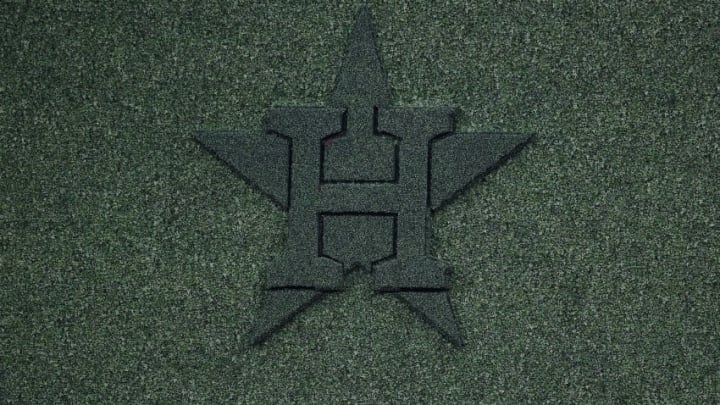 HOUSTON, TX - OCTOBER 06: The Houston Astros logo is seen on the centerfield wall before game two of the American League Division Series between the Boston Red Sox and the Houston Astros at Minute Maid Park on October 6, 2017 in Houston, Texas. (Photo by Ronald Martinez/Getty Images) /
The MLB Draft is upon us, and the Astros made their first-round draft pick on Monday night.
With the 28th overall pick in the MLB Draft, the Astros could've gone in numerous directions. Our own Eric Huysman detailed the needs that Houston was presented with as draft time approached. He also discussed names like outfielders Connor Scott and Nick Schnell. 
At the end of the day, the Astros selected a first baseman/outfielder from Clemson with the 28th overall pick. His name is Seth Beer.
The 2016 Dick Howser award winner, Beer made his mark with the bat at Clemson. In case you are not aware, he was the third Clemson Tiger to win the Dick Howser award.
The first two?
Kris Benson in 1996 and Khalil Greene in 2002.
In Beer's most recent season, the 21-year old hitter slashed .301/.456/.642 with 22 home runs and 54 RBI. More impressively, Beer had 54 walks compared to 36 strikeouts. Over the course of his three-year college career with Clemson, he finished with 180 walks and 98 strikeouts.
The Clemson standout was once thought to be an unlikely choice as the first overall pick in the 2018 MLB Draft. As time went on though, Beer's stock dropped. A robust yet unspectacular season in 2017 did little to boost the opinion on Beer. The fact that he isn't a particularly athletic outfielder didn't help Beer's stock. Hence the move to first base later on. Also, a lack of productivity with a wooden bat as noted on the MLB Draft Tracker cast further doubt. But I would advise that you don't read too much into that lack of success.
At the same time, Beer's left-handed bat based on his success at Clemson is viewed quite favorably. Not only did he demonstrate the ability to draw walks and get on-base, but Beer also hits for power. In three collegiate seasons, he hit 56 home runs. Not too shabby.
JJ Cooper of Baseball America shed some light via the following tweets on Beer and what he brings to the Astros organization.
The lack of a true position on defense is a crucial point.
The Astros immediate plan appears to give Beer a chance to prove himself in the field.
The quick comparison to Beer will likely be current Astro farmhand AJ Reed. Both are similar regarding the profile. But Beer figures to be a player who can advance quickly through the system if he hits well. The position he occupies will be decided in due time.
Next: Astros Draft 2018: A look at the needs of the farm system
At this point, he may end up playing first base full time based on the current analysis. The Astros felt strongly enough about the bat to take him in the first round. Only time will tell how Beer's talent translates in the coming years.
**Statistics and information courtesy of MLB.com, D1Baseball.com, and ClemsonTigers.com**