A mock MLB power rankings and where do the Astros stand?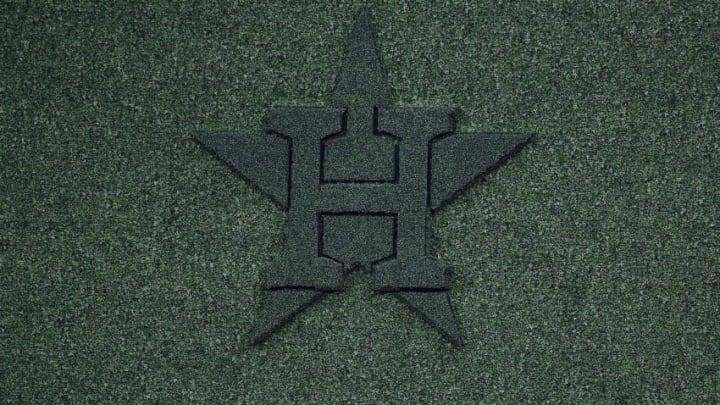 HOUSTON, TX - OCTOBER 06: The Houston Astros logo is seen on the centerfield wall before game two of the American League Division Series between the Boston Red Sox and the Houston Astros at Minute Maid Park on October 6, 2017 in Houston, Texas. (Photo by Ronald Martinez/Getty Images) /
PORT ST. LUCIE, FL – MARCH 06: The Grapefruit League logo on the third base line before a spring training game between the Houston Astros and New York Mets at First Data Field on March 6, 2018 in Port St. Lucie, Florida. (Photo by Rich Schultz/Getty Images) /
Meaningful baseball is almost here! The Astros hope to the start their title defense strong in Arlington on Thursday.
Oh, wow. Opening Day is nearly here. It feels like yesterday that we were all celebrating the Astros' first World Series championship. Now, here we are in late March. Time sure flies, huh?
To honor the upcoming Opening Day, let me present to you my power rankings of ALL THIRTY TEAMS. While I won't go to the great trouble with an in-depth explanation of my rankings, I will throw in tidbits of (useless) commentary.
Enjoy!
30. Miami Marlins
The Miami Firesales, right? That said, the trade return earlier this offseason that was least impressive in my eyes was the one for Marcell Ozuna. And you have to feel for the fans in South Beach.
29. Detroit Tigers
It was just time. The Tigers quite frankly over the past decade-plus had a great run. Sure, there was no World Series parade in Motown, but those Tigers were fun to watch. I will also be watching them closely now as there are some familiar names and faces to Astros' fans.
28. Chicago White Sox
There is plenty to like about the White Sox. In the future. I'm curious to see how Lucas Giolito performs following an impressive spring training. Seriously, a future core composed of him, Yoan Moncada, Eloy Jimenez, and Michael Kopech has a chance to be special in a few years. Not this year, though.
27. Kansas City Royals
Resigning Mike Moustakas to a short-term contract when his market dried up in free agency was a solid move. Besides that, there isn't a lot of notable talent on the roster. A rebuild should truly begin this season. The AL Central may be the worst division in baseball.
26. Cincinnati Reds
Joey Votto is automatic. There are lots of young talent starting to make its way to the major league roster. However, the forever question about pitching never changes for the Reds. They still may be at least two years away from pushing the Brewers, Cubs, and Cardinals.
25. San Diego Padres
Eric Hosmer is the new face of the Friars. It remains to be seen if Hosmer, on his new contract, is all that valuable. But the Padres can afford to absorb a contract like Hosmer's in the foreseeable future as the rest of the roster will be so cheap for a while. This team could be interesting to watch in 2019 once the younger talent develops.
24. Atlanta Braves
I like the Braves talent. Ronald Acuna could be the next big star in baseball. But this team will be quite young. Could be the NL East favorite in the next few years, but not this year. The Braves contending by 2020 may be a reasonable goal.
23. Pittsburgh Pirates
You should not sleep on the Pirates. Sure, they traded Andrew McCutchen and Gerrit Cole. But they got back some interesting players. At best, these Pirates are a fringe Wild Card team. At worst, a thorn in the sides of their NL Central brethren.
22. Baltimore Orioles
Count me as not being sold on the Orioles starting rotation. FanGraphs currently projects Baltimore to have the fourth-lowest fWAR (9.2) out of their starters. The lineup may be fine for a half-season before Manny Machado is traded off. But in the same division as the Yankees and Red Sox, Baltimore will need to outperform their projections, again.
21. Tampa Bay Rays
Believe it or not, but I would've ranked the Rays higher if Brent Honeywell and Jose De Leon did not need Tommy John surgery. There is talent on the Rays' roster. The four-man rotation with a designated bullpen day will be fun to watch.