Astros: Hinch confirms the possibility of carrying three catchers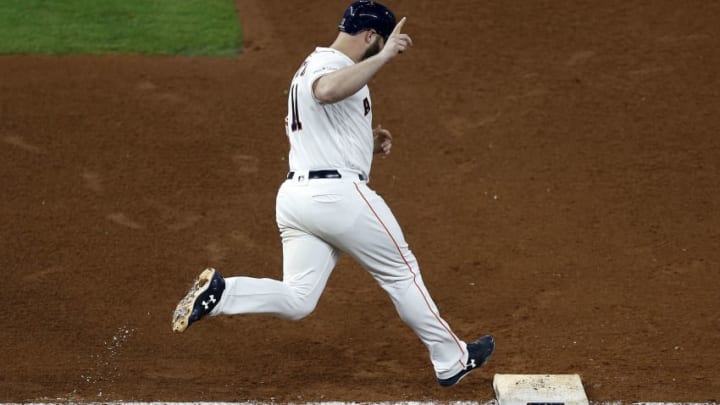 HOUSTON, TEXAS - OCTOBER 21: Evan Gattis /
Astros manager lays out the Astros potential plans at catcher this season.
Breaking news, Houston Astros fans have another outlet for baseball news with The Athletic Houston. Former Houston Chronicle beat writer Jake Kaplan will be joining this new site. It started with Ken Rosenthal joining the main Athletic website, now the regional/city based sites are popping up.
Unfortunately, you have to have a subscription to read their content. I already made the plunge for at least the first year, because I enjoy reading Kaplan's work. Recently, Kaplan sat down with Astros' manager A.J. Hinch to talk spring battles and how to handle the World Series hangover.
One of the big topics on this week's Talking Stros was the catcher position. Especially with the rumors surrounding J.T. Realmuto and the catcher position in general. We initially thought Evan Gattis would be the primary designated hitter this year and not catch much. Things have and will continue to change as the spring camp progresses.
Gattis will still catch games in 2018.
Hinch confirmed that they are considering using three catchers with Gattis catching some games. Hinch told Kaplan that, "it's important for him to keep his catching and be part of the rotation behind the plate." We discussed this on Talking Stros that Gattis sees the ball better as a catcher, instead of as a designated hitter. However, we did see him hit well as the DH in the playoffs last year. Which is why they want to give him more at-bats as the DH in 2018.
It could be similar to what we saw in the playoff with Juan Centeno on the playoff roster, but won't get too much playing time. The third catcher allows Gattis to be the designated hitter without the fear of losing it if he needs to play catcher. If something happens to the catcher, the third guy comes in without losing the designated hitter.
Of course, the main guy will be Brian McCann, who was one of the reasons the Astros won their first World Series in 2017.
Three catchers?
The big battle will be for who the third catcher. This player doesn't need to be a big-time hitter, just hit better than Erik Kratz did in 2016. According to Hinch, Max Stassi is not guaranteed that job.
""How much is to be determined and a lot of that might depend on whether or not we carry a third catcher like Max Stassi or (Tim) Federowicz or the guys that are vying to fill in." – Hinch via Kaplan."
Tim Federowicz was a non-roster invitee with some MLB experience. One thing about Federowicz was his .696 slugging percentage in 2017 with the Giants. That's right, he had three hits on the season, and two of them were homers. He only had 13 at-bats, so that's like overreacting when Centeno went off versus the Tigers last year.
Giving Hinch the flexibility to use Gattis as the designated hitter could be the goal of the third catcher. However, could it be a wasted roster spot if they don't hit. Hinch also suggested that the extra position spot could go to Tony Kemp, Tyler White, or J.D. Davis. If one of those guys forces their way on the team, there goes the luxury of the third catcher.
If only the Astros followed through with getting White readjusted to playing catcher that one time. Oh, well! It sounds like health could be a factor in deciding whether they carry a third catcher. As it should be, you have to earn your way onto a World Series contenders roster. Of course, having Marwin Gonzalez on the team helps with flexibility as a backup infielder and outfielder.
Next: Astros Rumors: Discussing a trade with the Marlins for catcher Realmuto
Many players battling for a few spots.
While there are not many roster spots open, there could be a battle for that one spot across the diamond. It's good to see that the plan is to have Gattis catch this year, it helps his value as a free agent next year. Stassi and Federowicz will get some starts, because that's what Hinch does. Otherwise, the winner will be a defensive replacement to rest McCann more.
***Stats from Baseball-Reference***