Astros will visit the White House on March 12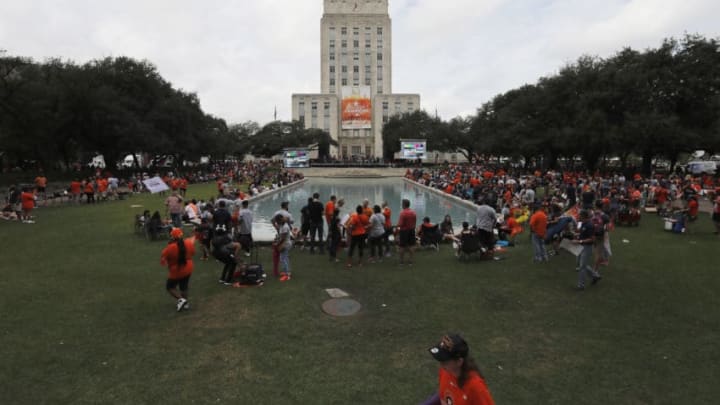 HOUSTON, TX - NOVEMBER 03: Fans gather at Houston City Hall before the Houston Astros Victory Parade on November 3, 2017 in Houston, Texas. (Photo by Tim Warner/Getty Images) /
The Astros Championship tour will continue at the White House on March 12th.
With peoples' political beliefs aside, it's still a big deal to be invited to the White House. After winning the first World Series in franchise history, the Astros will get their first appearance at the White House. Take away the politics. This should be a big moment for a team that could win again in 2018.
According to Richard Justice, the Astros will make the trip from Florida to Washington DC to meet Donald Trump on March 12. The team will be off that day from the Spring schedule. Not everyone gets the chance to meet the president.
The Astros will travel as a team to go meet the president, but will not be joined by Carlos Beltran, according to Matt Young. While he was not happy with how the United States responded to Puerto Rico, it's not the reason. He's retired and wants to spend time with his current team, his family.
A rite of honor.
The Astros have a challenge of trying to repeat as World Champions again in 2018. To do so, they have to remain humble and play good baseball. Maybe the experience of meeting the President will further bond this team.
There have been other sports who have decided not to go to the White House. The Golden State Warriors did not visit the White House after winning the NBA title. There are rumors that the Eagles may not visit the White House after winning the Super Bowl.
The Astros were not scheduled to be in Washington area until the played the Orioles at the end of the season. When it was announced that the team would visit the White House, there was some controversy with Max Kellerman. He called the Astros decision a "grave error."
Next: Astros catching prospect Garrett Stubbs will be ready if needed
Politics aside, the players will enjoy the experience at the White House. As a Stros fan, it will be awesome to see the Astros at the White House. It will be the realization of a dream of a long-time Houston fan. The Stros are the reigning champs, and this is the continuation of the victory parade. Let's play ball!