Astros: What do you wish for in 2018 after 1st World Series?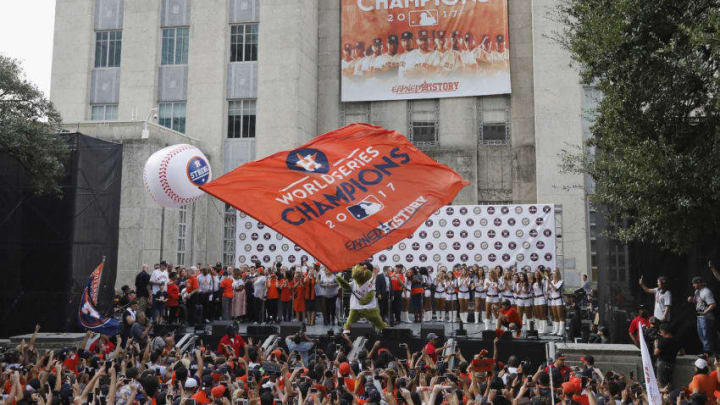 HOUSTON, TX - NOVEMBER 03: Houston Astros mascot Orbit waves a flag during the Houston Astros Victory Parade on November 3, 2017 in Houston, Texas. The Astros defeated the Los Angeles Dodgers 5-1 in Game 7 to win the 2017 World Series. (Photo by Tim Warner/Getty Images) /
You got your wish in 2017 Astros fans, what's your wish for 2018?
Unless you live in a Hallmark Movie, adults usually don't get to ask Santa Claus for their Holiday Wishes. That hasn't stopped Astros fans from wishing for a World Series Championship every December for the upcoming season. Now that your wish had come true, what's next?
You can wish for the Rockets to win their first championship since 1995. For that to come true, Chris Paul must stay healthy. Fans could also wish for the Texans to get remarkably better without early round picks in the draft. If you wanted not to waste your wish, the Astros are an excellent pick.
With a team that remains mostly intact after winning the World Series, they are the favorites heading into 2018. This offseason can be summarized as teams are trying to rise to the Astros level. The Yankees, Angels, and Mariners have made big moves to improve.
As we wait to see what Jeff Luhnow's next move in, here are just a few things to wish for in 2018 outside of winning another World Series.
A chance to see what the Astros can do versus the Japanese Babe Ruth in Shohei Ohntai. Everyone was chasing him this offseason, so now they will face him several times. We will also get to see what Justin Verlander can offer in a whole season. Could Verlander bring home another Cy Young award? Will we see the golden child in Kyle Tucker this season?
It's about time!
When people see me they congratulate me for winning the World Series. Even though I had nothing to do with the Astros winning, you had to think that this was in response to all the fan's hopes and dreams. After year's of rooting for the Astros, they finally won it all.
Here is to all those people still dealing with the aftermath from Hurricane Harvey. Here is to all the people in Puerto Rico. While those affected wishes may be different than others, we all experienced the joy that was October.
The Astros were a great distraction in 2017 to take people's mind of the tragedy. As we look forward to 2018, I hope the best is to come. My wish that they go on a run similar to the 90's Braves.
Next: How likely is it that Anthony Gose will stick?
Enjoy this time with your family, whether you celebrate Christmas or not. This is the first Christmas that you can say your team won the World Series. Hopefully, you will get a lot of Astros presents soon. Happy Holidays Astros fans!