Astros lose third catcher Centeno via waivers to the Rangers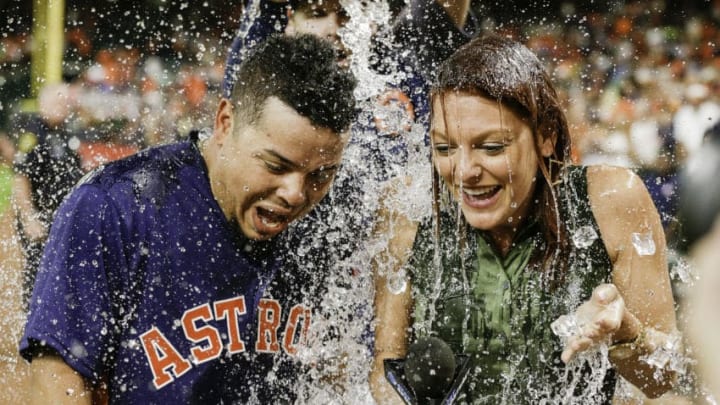 HOUSTON, TX - AUGUST 06: Juan Centeno #30 of the Houston Astros and AT&T SportsNet sideline reporter Julia Morales are doused with water from Collin McHugh during a post game interview at Minute Maid Park on August 6, 2017 in Houston, Texas. Centeno hit a walkoff single in the ninth inning against the Toronto Blue Jays. (Photo by Bob Levey/Getty Images) /
Juan Centeno won the World Series with the Astros and then lands with the Rangers via waivers.
Around 3 pm yesterday, it was announced that the Rangers claimed Juan Centeno from the Astros via waivers. Fans knew that there was a chance that he would be claimed, but the Rangers. Once again, the Rangers are trying to be the Astros of the north.
As they say, someone else's trash is someone else's treasure. Centeno is no way garbage. The Astros were hoping that he would clear waivers and keep him. After all, the Astros felt confident enough to have him on the ALCS and World Series roster as the third catcher.
After he was a big hit in three games versus the Tigers, Centeno came back to earth at the plate. Centeno has been known as a better defensive player. The Astros thought he would clear waivers. They apparently saw more in Max Stassi's potential than holding onto Centeno.
The reason this is a big deal is not that the Rangers got Centeno. It's a big deal because they already have announced that Evan Gattis will be the primary DH in 2018. That means that Stassi now figures to be the backup catcher to Brian McCann. Gattis will still catch every once in a while, but he will replace Carlos Beltran's role.
A business decision.
With a full roster, the Astros had to make cuts somewhere to add more talent this offseason. As my Talking Stros cohort mentioned, it's odd that they didn't protect Jason Martin but put Centeno on waivers the next day. The logic behind it was that most teams had added players to get to fill the 40-man roster. Maybe Centeno would have cleared waivers, but the Rangers had three open spots.
Even if he did, he would have the right to become a minor league free agent. Most likely he would have chosen to stay with the team that won the World Series, but he could want to find a better opportunity.
For players like Centeno, you could see him hit waivers again this offseason. Former Astros prospect David Rollins was claimed several times off waivers last offseason. Wherever his final destination is, good luck to him. He was an underdog we liked rooting for. I'm not going to list his stats. He meant more than meets the eye.
Next: The 2018 season may determine Dallas Keuchel's future with the Astros
Now the Astros roster sits at 39 players with the non-tender deadline approaching. The Astros will most likely let go of Mike Fiers. It's still early in the offseason, but we will see how much faith the Astros have in Stassi. They have been rumored to be interested in Jonathan Lucroy. Centeno will get a World Series ring, how sweet will that be?
***Stats from Baseball-Reference***