Astros lose to the White Sox but don't sweat it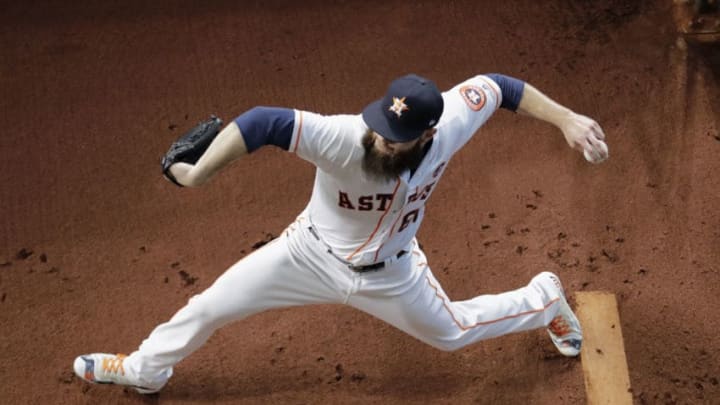 HOUSTON, TX - SEPTEMBER 16: Dallas Keuchel /
Yes, the Astros lost a baseball game. And, yes, they still trail the Indians for the best AL record by 2.5 games.
Don't sweat it. That is the best advice I can give you about the Astros current predicament. Not much of a predicament mind you for the 2017 AL West champion. Baseball life is good.
But the possibility of home field advantage throughout the ALDS and ALCS is slowly slipping away.
Regardless of what I think, Thursday's game against the White Sox was a perfect opportunity to keep pace with Cleveland. You may remember the Indians as the team to win 22-games in a row, or 28 of the past 29 games. The White Sox have lost 91 games this season. And the Astros had Dallas Keuchel on the mound and the team was riding a six-game winning streak. Any win can go a long way in terms of the top record in the AL.
Unfortunately for Houston, a win was not in the cards despite a decent start by Keuchel. Six solid innings while allowing just two runs on five hits and three walks. Oh, he also had seven strikeouts. So, yeah, that's not bad. It's definitely better than Keuchel's last start against the White Sox in August.
8/8 start vs. CHW: 4 IP, 10 H, 8 R, 3 BB, 2 SO
Zoinks!
I do not wish to relive that stretch of baseball again soon.
The Astros' lineup failed to show up yesterday. Three hits and a mere run won't win many games. But you can't place much blame for a single game's outcome on an offense that ranks amongst the best in the game. Most baseball teams are guaranteed to lose at least 60 games. There are naturally exceptions to thus trend. But at least 60 losses are usually guaranteed. The Astros currently have 59 losses.
This 3-1 defeat also provided a bit more clarity on the postseason roster. And at this point, I would be surprised if Francis Martes made the cut. Even Tyler Clippard isn't a shoo-in. But Clippard's chances ought to be much higher than Martes' chances.
Next: Astros: Justin Verlander to open the playoffs on the mound?
Like I said earlier, you shouldn't be sweating these games right now. Sure, home-field advantage through the ALDS and ALCS would be grand. Just grand. But it took a historic run by Cleveland to catch up. Take solace in that if you can. And it's still a race. After all, there are still ten games left in the season so don't sweat it so much. Anything can happen in the postseason.
**Statistics courtesy of MLB.com and ESPN**