Remember Astros players are human like the rest of us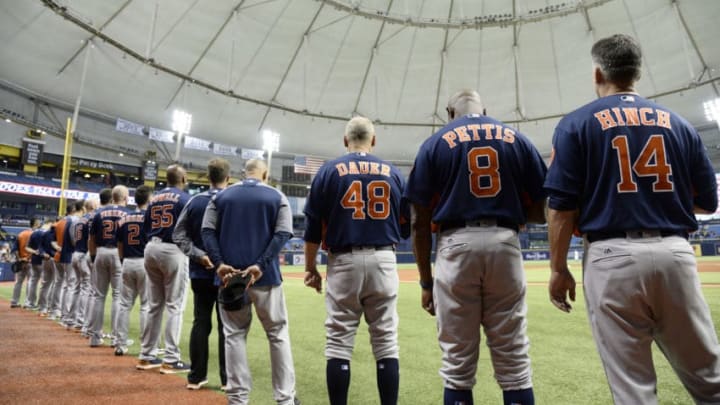 ST. PETERSBURG, FL - AUGUST 29: Houston Astros stand for the National Anthem before their game against the Texas Rangers at Tropicana Field on August 29, 2017 in St. Petersburg, Florida. (Photo by Jason Behnken / Getty Images) /
In the past two days, the Astros have lost two baseball games. This would normally put fans into a panic under usual circumstances. But it's not today or likely for a while as this is not the usual circumstances.
Southeast Texas and southwestern Louisiana, in general, is beyond devastated. Yes, some parts of the affected area fared better than others. But others, well, they will continue to need everyone's prayers and support for the months and years to follow. It's truly an utterly tragic situation for anyone that lives in the affected area. Like everyone, including the Astros.
Let's put this into perspective: How would perform at your job knowing that your family and friends were in truly dire situations?
Your home?
Your city?
Your state?
I know from experience now I wouldn't be able to perform well at all. At anything related to work or hobbies. And contrary to what some think about athletes, they have the same concerns. They are people, like you and me.
Like I said, the Astros lost two games in a rather lopsided fashion to the Rangers. The players, coaches and staff are aware of this. But it's not the primary or secondary concern in their minds. They are playing because they have to at this point. Based on numerous interviews and photographs of the team since Saturday, it's clear they would be in Houston with family and assisting with the recovery process than playing a child's game.
The upcoming game at Minute Maid Park on Saturday afternoon is going to be an emotional affair. There will not be many dry eyes in the ballpark. Fans will cry. Employees will cry. Yes, players will cry. People watching on the television or listening to the radio will cry as well. These games will provide a momentary return of normalcy that is needed across the region. This will also be amongst the first steps of healing for plenty of the fine people in this city.
Next: Astros are returning home this weekend
While baseball as a whole has become more numbers savvy over the years, this will be a good reminder that actual humans play this game. They are like the rest of us. And I thank God for this reminder and change of perspective.