An Astros' history post inspired by the Dodgers' near-perfection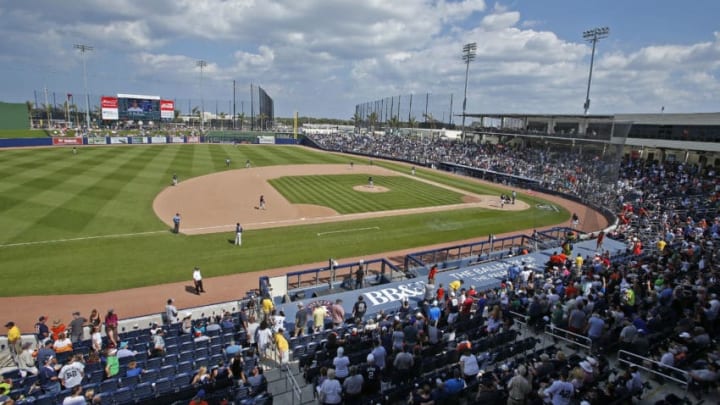 WEST PALM BEACH, FL - MARCH 19: A general view of The Ballpark of the Palm Beaches during the spring training game between the Houston Astros and the New York Yankees on March 19, 2017 in West Palm Beach, Florida. The Yankees defeated the Astros 6-4. (Photo by Joel Auerbach/Getty Images) /
If you are wondering how the Dodgers game Wednesday in Pittsburgh ties in with the Astros, well, keep reading.
The AL West-leading Astros were played the NL East-leading Nationals Wednesday evening in Houston. Within the same evening, the NL West-leading Dodgers were played the NOT NL Central-leading Pirates in Pittsburgh. Nothing special about this sentence.
However, the Dodgers-Pirates game was one of the more interesting games you could ever watch. Instead of giving you a pointless game summary, I will give you this tidbit; Dodgers' starter Rich Hill lost a perfect game in the ninth inning thanks to a Logan Forsythe error. Hill would then lose the no-hitter, shut out and game thanks to a walk-off solo home run by Pirates' batter Josh Harrison.
It was quite the sight.
Plus, baseball is just cruel.
Anyway, you are probably wondering how in the world does this tie into Astros history?
Patience, please.
So, you would think that the Dodgers-Pirates outcome is a rare event and you would be correct. In fact, this is the first time since July 12th, 1997 that the Pirates have accomplished such a feat. Against the Astros.
If you don't remember 1997 well, that season was the first of the Astros' three consecutive NL Central titles. And to prove that the Astro fans in 2017 are spoiled, the 1997 team had a 45-46 record following this game.
So, yeah, appreciate the 2017 Astros success up to this point.
This game was odd for a few reasons.
First, Chris Holt had a respectable start with seven shutout innings and a lone strikeout while allowing just five hits and a walk on 92 pitches. Holy wasn't known for many of those.
There was also a Billy Wagner appearance so that's worth remembering.
In terms of the Astros' offense, well, they did absolutely nothing. Seriously, no hits or walks. The Pirates didn't even commit an error to put a runner on-base all game. In fact, the only baserunner was centerfielder Chuck Carr.
Yes, Chuck Carr of Florida Marlins lore.
The best part?
He was put on-base just once!
You may ask how?
Francisco Cordova, the Pirates starting pitcher on this day, hit him with a pitch!
Yes, the only detail standing between Cordova and a perfect game was a hit-by-pitch of Chuck Carr.
Next: Astros: A review of a certain bunt from Tuesday
Anyway, the Astros would lose the game 3-to-0 thanks to a three-run home run by pinch-hitter Mark Smith off of reliever John Hudek. But Houston went 39-and-32 the rest of the season to clinch the NL Central title. Not a bad ending, yes?
** Statistics and information courtesy of Baseball-Reference, High Heat Stats and MLB Statcast**