Three numbers and the Astros had a Sunday comeback for the ages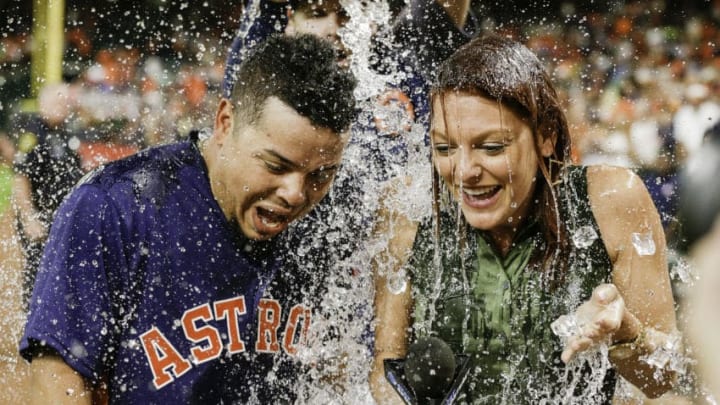 HOUSTON, TX - AUGUST 06: Juan Centeno #30 of the Houston Astros and AT&T SportsNet sideline reporter Julia Morales are doused with water from Collin McHugh during a post game interview at Minute Maid Park on August 6, 2017 in Houston, Texas. Centeno hit a walkoff single in the ninth inning against the Toronto Blue Jays. (Photo by Bob Levey/Getty Images) /
Walk-off hits are fun to watch. When the Astros are on the right side of one, well, that's even better.
Just when you think the Astros are chum in the water, they do either the expected or unexpected. Most of the time, it's the expected: lose. The other occasion is win in a dramatic fashion.
Yesterday's victory was a classic example of the Astros success in 2017. Essentially, the team loses a lead then charges back in late innings. It's not a strategy I would recommend, but it's nice to have the capability. Like the Astros in 2017.
2
Mike Fiers has surrendered 18 home runs through May 31st. He led the majors in home runs allowed at one point. Since then, Fiers has only allowed eight home runs.
Not too shabby.
Unfortunately for the Astros' starter, he has allowed all eight home runs since June 1st in five of his last six starts.
That's concerning.
Fortunately for the Astros, Fiers has continued to limit the damage from home runs in most of those five starts.
123
Jose Altuve has to be a contender for the AL MVP, right? If not, well, it would be a downright shame.
Anyway, Altuve had another three-hit game against the Toronto Blue Jays yesterday. It's just his usual day in the office. Per Ryan Spaeder, Altuve now has 123 three-hit games to his credit for his career.
The Astros' second baseman has been the model of consistency since his major league debut way back in 2011. Yesterday was no different.
.375
Alex Bregman's triple in the bottom of the ninth-inning yesterday generated a whopping .531 WPA. This is not surprising as the score became tie due to the hit.
But the final dagger came in the form of Juan Centeno's RBI single the very next at-bat. This hit over a jumping Justin Smoak scored Bregman and gave Houston the much-needed win.
Well, much-needed as it can be for a 70-win team in early August.
Next: Astros: Charlie Morton is pitching like a playoff pitcher
The Astros are now 71-40 entering today's off day. So, enjoy this victory for one more day, friends. As the latest slide has taught us, wins are not always easy to come by.
**Statistics courtesy of Fangraphs**