Astros: Whose Number Should The Team Retire Next?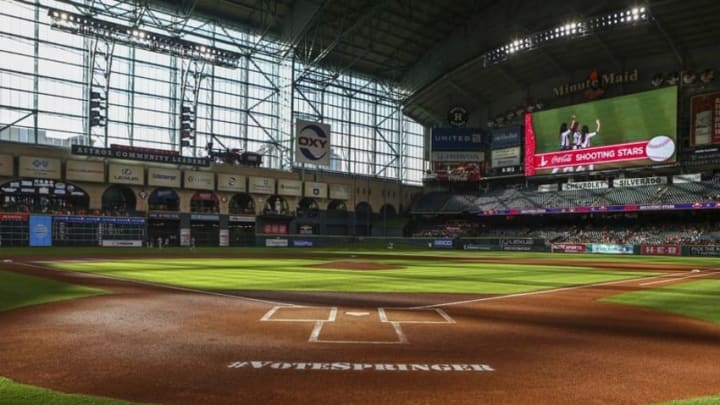 Jul 7, 2016; Houston, TX, USA; General view of Minute Maid Park before a game between the Houston Astros and the Oakland Athletics. Mandatory Credit: Troy Taormina-USA TODAY Sports /
As I was watching clips of the Houston Rockets retiring Yao Ming's number last night, I couldn't help but wonder whose number the Astros should retire next.
When I think back upon the Astros during my formative years, I remember numerous players that helped make this club a "winner" for so long. Lance Berkman immediately comes to mind. Roy Oswalt isn't far behind. Outside of Jeff Bagwell and Craig Biggio, there wasn't another pair of Astros that left a mark bigger than those two in my mind.
When I was reflected on those years of watching Berkman and Oswalt compete, one singular thought came to mind: should the Astros retire their numbers?
As you can imagine, one could manipulate the data for why those two should have their respective numbers retired. For example, Lance Berkman is third in all-time WAR (51.5) for Astros hitters. He also holds second place in team history for home runs with 326. Third in doubles with 375. I could do this all morning long.
Let's look at Oswalt for a moment. Like Berkman, it is easy to pull numbers in favor of this argument. Second in franchise wins with 143, even though wins aren't a good representation of a pitcher's talent. But that is just my opinion. Franchise leader in WAR with 46.1. The closest pitcher to Oswalt is the legendary Nolan Ryan with 36.6 WAR. Second place in strikeouts with 1,573. These aren't numbers to sneeze at easily.
Numbers aside, I would personally enjoy to see the Astros retire Berkman and Oswalt's numbers. For goodness sake, number 17 hasn't been used since Berkman. And I never quite understood reissuing Oswald's number 44 to six different players since he left.
At the same time I recognized that I have personal biases towards those guys. Plenty of emotion was wrapped into every plate appearance or start. There were times that I felt like they could single-handely change a game. Like I previously stated, I have my biases.
My emotions though should not dictate whether the team should retire their numbers. The fact remains that the Colt .45's/Astros franchise have liberally retired many numbers throughout the years. Here is the current list of players and retired numbers that we see at Minute Maid Park every game:
Jeff Bagwell, #5
Craig Biggio, #7
Jimmy Wynn, #24
Nolan Ryan, #34
Note: Thank you, Baseball Reference!
Of course the all-time great Robinson was retired by all of Major League Baseball that makes the sum ten. But add just the Houston players together and you get nine that have seen their numbers retired. I understand the perspective that we need to take it easy on retiring numbers. After all, some franchises only have one to two total numbers retired.
However, we should not hold the fact that previous ownership groups have been liberal in retiring some players numbers against other deserving players. At the same time I must add that all of these numbers that have been retired, I do not have a problem with any of them being honored. The last I checked the team isn't running low on numbers. I'm not going to lie, I wouldn't mind watching an Astros player embrace number 99 or something similar. On the other hand, I do admit that I understand the school of thought that the Houston franchise may need to be a bit more conservative on this front in the future.
Next: Astros, Reliever Will Harris Avoid Arbitration
All of that said in my (too) long rant, we should not hold back honoring two great Astros players. Berkman and Oswalt helped define an era of Houston baseball that will be remembered fondly. Simply put, their numbers should be retired. Between the stats, the postseason glory, and fond memories, it just doesn't make sense not to honor them in this way. At least to me, anyway.
**Statistics and uniform information courtesy of Fangraphs and Baseball Reference**