Will Jose Altuve be an Astro for life?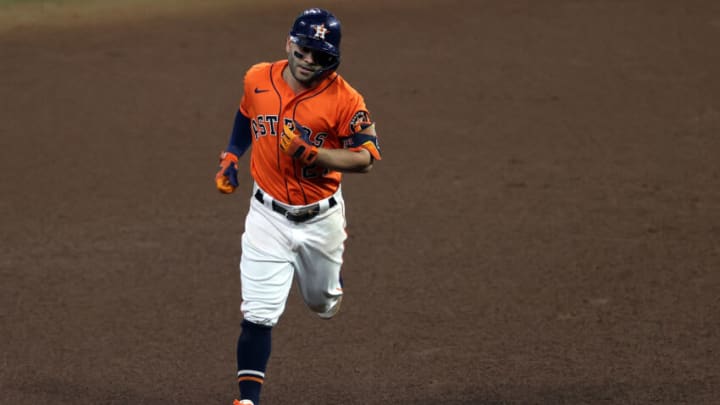 (Photo by Bob Levey/Getty Images) /
Mandatory Credit: Brett Davis-USA TODAY Sports /
Team Standing
This is the hurdle that is out of anyone's control. The Astros are still currently considered a powerhouse. But the rest of the American League West, other than the Oakland A's, got better.
The Seattle Mariners were surprisingly competitive last year which made them sign the reigning Cy Young award winner in Robbie Ray.
The Los Angeles Angeles were ravaged with injuries this past season but a healthy lineup of Shohei Ohtani, Mike Trout and Anthony Rendon is as scary a middle of the order as you can have not to mention singing Noah Syndergaard and his 100 mph fastball.
And the Texas Rangers spent half a billion dollars on their middle infield signing Corey Seager and third place finisher in MVP voting Marcus Semien to their squad a long, LONG time.
If by  2023 or 2024, the Astros are in the middle of a season where they have no shot at making the playoffs, Alex Bregman and Jose Altuve will almost assuredly be traded.
They would have to be doing remarkably terrible for that to happen mid-season, especially with the added wild card spot giving hope to nearly half the league at the all-star break.  But things can crumble quickly.
In 2018, the Houston Rockets were within a game of the NBA Finals dethroning the Golden State Warriors in the process. James Harden was assuredly a Rocket for life. Three years after that James Harden was demanding a trade and the Rockets began a rebuild that they're still currently in.
Hopefully the Astros remain competitive, spend wisely and Altuve remains productive so we can all see someone remain in an Astros uniform their whole career for the first time since our last great second baseman Craig Biggio. Altuve and Astros fans both deserve it.