Houston Astros: Who should get the 26th roster spot?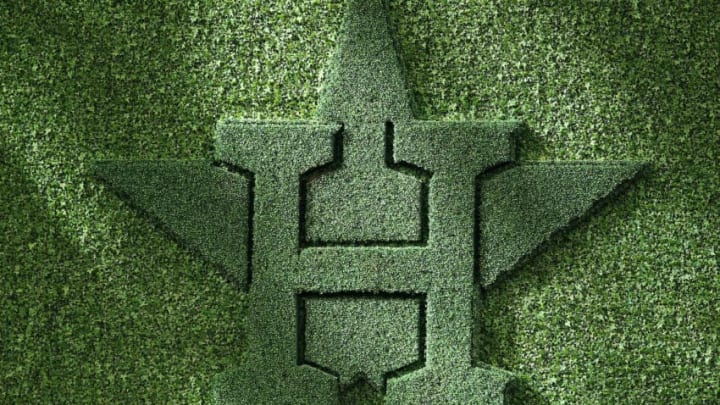 HOUSTON, TEXAS - OCTOBER 22: A view of the Houston Astros logo in centerfield during batting practice prior to Game One of the 2019 World Series between the Houston Astros and the Washington Nationals at Minute Maid Park on October 22, 2019 in Houston, Texas. (Photo by Bob Levey/Getty Images) /
ANAHEIM, CA – SEPTEMBER 26: Jack Mayfield #9 of the Houston Astros makes a play in the game against the Los Angeles Angels at Angel Stadium on September 26, 2019 in Anaheim, California. (Photo by Jayne Kamin-Oncea/Getty Images) /
Mayfield made his dreams come true last year after six full seasons of minor league ball. Up until then, we had only seen glimpses of "Super Jack" wearing his orange and blue superhero uniform during spring training.
Even though Super Jack might not be an All-Star-caliber player, he has an all-star-caliber attitude. A player doesn't have to hit like Bonds or field like Hayes to ignite a spark on a team. Jack Mayfield has intangibles.
In the digital age of sabermetrics and Statcast, intangibles aren't talked about much anymore. This guy has them. His exuberance to play and the ability to wear any glove in the infield makes him a welcomed addition to the roster.
Mayfield has never lit the pitching up in the minors like Tucker or Yordan Alvarez, but he does own a very serviceable .272 minor league batting average with above-average peripheral stats. At the major league level, he had a hard time making adjustments and only had a hard-hit rate of 20.8 percent, which is well below the MLB average at 34.5 percent. That is the beauty of the 26th man — whoever is called on for this position doesn't need to hit .300 with 30 homers and 100 RBIs.
The player for this roster spot needs to be able to play multiple positions, have decent at-bats and be a good clubhouse presence. Looking through Mayfield's minor league career, he has shown he can adjust to the level of play after extended time in each level of pro-ball.
Mayfield could be the perfect 26th man as he doesn't need everyday at-bats, and with more experience at the major league level, he could possibly produce at the plate closer to his minor league numbers.